Atal Bihari Vajpayee three times India's Prime Minister dies at the age of 93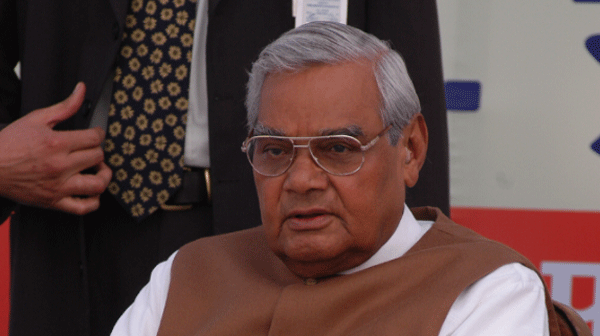 Today on Thursday August 16 2018, it seems like an era of Indian politics has ended with the demise of Vajpayee.
He passed away a few minutes ago in AIIMS after having been put on life support for the last few days.
Born on 25th December 1924, Vajpayee straddled Indian political domain for a good 70 years plus. Almost as long as the country has been independent.
He first got into active politics when he joined the Quit India movement in 1942; a call given by Indian National Congress which was almost completely under the influence of M.K. Gandhi then. In August 1942, he and his elder brother Prem were arrested for 23 days during the Movement. He was released after giving a written undertaking, expressly declaring that they would not participate in the anti-British struggle, a promise that they kept.
After India had gained independence, Vajpayee threw in his lot with the RSS which was banned in 1948 after Gandhi's assassination. In 1951, he was seconded by the RSS, along with Deendayal Upadhyaya, to work for the newly formed Bharatiya Jan Sangh.
He was soon made in charge of the new party's North Indian wing where he came to the notice of then P.M. Jawaharlal Nehru. Nehru was so impressed with his oratorial skills that he predicted that "this young man would one day be Prime Minister."
This prediction came true almost 50 years later when Vajpayee served as the Prime Minister of India between 1996 and 2004 in three non-consecutive terms.
In the 1996 general elections, the BJP emerged as the single largest party in the Lok Sabha. The then president Shankar Dayal invited Vajpayee to form the government. Vajpayee was sworn in as the 10th Prime Minister of India, but the BJP failed to muster enough support from other parties to obtain a majority. He resigned after 13 days, when it became clear that he could not garner a majority.
It was in his third outing as PM that Vajpayee could finish a full term from 1999 to 2004 becoming the first non Congress politician to finish a full five years term as P.M. He had learnt an important political lesson by then, which present day BJP would benefit by remembering: that in politics no one is an untouchable; you have to continue building bridges with all possible allies.
Momentous events like the Lahore Summit the failure of which led to the Kargil war happened during his tenure. An Indian Airlines plane was hijacked to Kabul and under immense pressure the Vajpayee government had to cave in to the terrorists demands.
The Nuclear test known as Pokharan 2 also was conducted then.
President Clinton of USA was the first American President to visit India when Vajpayee was P.M.
But if Vajpayee would be remembered for one thing, it would be the impetus he gave to building of new National highways. There was a time when, if you were traveling anywhere in India by road you would be greeted by posters with Vajpayee's photo on them put up at road construction sites. This led to the 'India Shining Campaign' precluding the 2004 general elections, which unpredictably BJP lost.
Though he was also accused of some level of 'saffronization' particularly in the field of education, Vajpayee, to his credit always kept his focus on development as his government's main agenda, never giving in to pressure from the 'Hindutva elements'.
For this he earned the ire of the RSS that even threatened to revive Jan Sangh to take on BJP in an adversarial role! ( "Domestically, the BJP-led government was under constant pressure from its ideological mentor, the RSS, and the hard-line VHP to enact the Hindutva agenda. But owing to its dependence on coalition support, it was impossible for the BJP to push items like building the Ram Janmabhoomi temple in Ayodhya, repealing Article 370 which gave a special status to the state of Kashmir, or enacting a uniform civil code applicable to adherents of all religions. On 17 January 2000, there were reports of the RSS and some BJP hard-liners threatening to restart the Jan Sangh, the precursor to the BJP, because of their discontent over Atal Bihari Vajpayee rule".)
Under Vajpayee's leadership the party had won 3 major states of Rajasthan, Madhya Pradesh and Chattisgarh and victory at the 2014 hustings was seen as a given.
After the shock defeat, and when Man Mohan Singh became PM of first term of UPA Vajpayee promised full co operation to the new government.
He announced his retirement from active politics in 2005.
With Vajpayee's departure from active politics, it seemed like the era of 'Gentlemen politicians' began coming to an end. He never would have endorsed the Modi – Shah practice of targeting the opposition parties, specifically P.M. Singh and the Gandhi parivar the way this duo did.
In fact if Vajpayee had had his say, he would have liked Advani to follow him as the next BJP Prime Minister of India.
In some ways he was very unlike most politicians.
A sensitive soul, a poet, a literary figure and a great and inspiring orator – these were his hallmarks.
This very famous poem of his was almost prophetic of days to come:
कौरव कौन
कौन पांडव
टेढ़ा सवाल है
दोनों ओर शकुनि
का फैला
कूटजाल है
धर्मराज ने छोड़ी नहीं
जुए की लत है
हर पंचायत में
पांचाली
अपमानित है
बिना कृष्ण के
आज
महाभारत होना है,
कोई राजा बने,
रंक को तो रोना है
क़दम मिला कर चलना होगा
बाधाएँ आती हैं आएँ
घिरें प्रलय की घोर घटाएँ,
पावों के नीचे अंगारे,
सिर पर बरसें यदि ज्वालाएँ,
निज हाथों में हँसते-हँसते,
आग लगाकर जलना होगा।
क़दम मिलाकर चलना होगा।
हास्य-रूदन में, तूफ़ानों में,
अगर असंख्यक बलिदानों में,
उद्यानों में, वीरानों में,
अपमानों में, सम्मानों में,
उन्नत मस्तक, उभरा सीना,
पीड़ाओं में पलना होगा।
क़दम मिलाकर चलना होगा।
क़दम मिला कर चलना होगा
बाधाएँ आती हैं आएँ
घिरें प्रलय की घोर घटाएँ,
पावों के नीचे अंगारे,
सिर पर बरसें यदि ज्वालाएँ,
निज हाथों में हँसते-हँसते,
आग लगाकर जलना होगा।
क़दम मिलाकर चलना होगा।
हास्य-रूदन में, तूफ़ानों में,
अगर असंख्यक बलिदानों में,
उद्यानों में, वीरानों में,
अपमानों में, सम्मानों में,
उन्नत मस्तक, उभरा सीना,
पीड़ाओं में पलना होगा।
क़दम मिलाकर चलना होगा।