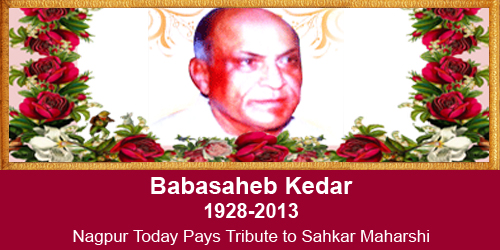 Nagpur News: Senior Vidarbha leader and former state minister Chhatrapati Anandrao Kedar alias Babasaheb Kedar, well known as the father of Sootgirni in Vidarbha passed away in Nagpur in the wee hours of Friday at 1.30 am, following prolonged illness. He left behind his two sons and two daughters along with his wife. He was 85 years old. Father of Saoner MLA Sunil Kedar, Babasaheb has been suffering from multiple problems like hypertension, diabetes and some other age related ailments for over two years. His last procession would be taken out from his residence at Bajaj Nagar on Saturday. The funeral would be performed at Ambazari ghat at 10 am on Saturday.
Born on November 15, 1928 at Patansaongi in Nagpur district, Baba Saheb had worked extensively towards the cooperative sector. He also served as Guardian Minister of Nagpur. He played an activist in raising various issues pertaining to welfare of farmers before the state government. For his remarkable contribution towards Vidarbha's cooperative sector, he was honored as "Sahkar Maharshi".
During his stint in politics, he had significant impact in state's political scenario. He also dominated the agricultural produce market committee for longer period of time. He also worked for orange growers of Vidarbha. It was Baba Saheb who first started the export of oranges from the region.
Congress MP from Nagpur Vilas Muttemwar and former BJP national president Nitin Gadkari expressed grief over the leader's demise.