Devendra Fadnavis flags off the Rally that will cover the entire Vidarbha for creating massive awareness and support for Vidarbha Statehood.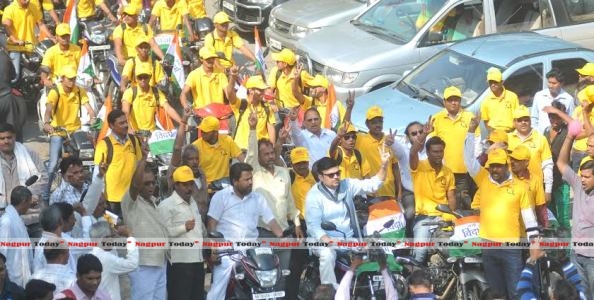 Nagpur News.
Dr Ashish Deshmukh, Founder of 'Youth for Vidarbha State' and Convener of 'Vidarbha Joint Action Committee,' has embarked on a 'Yuva Elgar Rally' on Wednesday (February 5) with the sole aim of creating massive awareness and support for Vidarbha State. The 'Yuva Elgar Rally,' (on motorcycles) participated by a young brigade under the leadership of Dr Deshmukh, was flagged off at Tekdi Ganesh Mandir by the President of Maharashtra BJP Devendra Fadnavis. Dr Deshmukh performed "Puja" of Lord Ganesh and sought His blessings for the success of his mission. The 'Yuva Elgar Rally' will scan the entire Vidarbha.
Devendra Fadnavis, clearing his stand on separate Vidarbha demand, said, "The condition of Vidarbha is very poor as far as development is concerned. Some top leaders of Vidarbha itself have been opposing independent Vidarbha State. People, particularly the youths, will not prosper until and unless separate Vidarbha is carved out. In the past, Nagpur Accord was signed for the development of Vidarbha. But leave alone development, Vidarbha marched backward and backward in almost all fields. Dr Babasaheb Ambedkar had commented that the accords like Nagpur Accord are signed to dump in the garbage bins. BJP strongly supports independent Vidarbha State and I wholeheartedly support Dr Ashish Deshmukh's stand on Vidarbha. Dr Deshmukh undertook indefinite hunger strike during Winter Session of Maharashtra Legislature and also took out "Padyatra" to Sewagram from Nagpur for stressing the demand for separate Vidarbha. People of Vidarbha have voted for Vidarbha Statehood in the referendum carried out recently in three districts recently and in the entire Vidarbha in the past. I extend my best wishes to 'Yuva Elgar Rally' for success in its purpose," the South West Nagpur MLA said during flagging off the rally.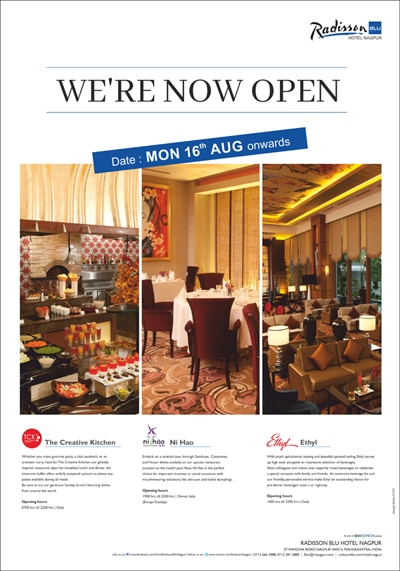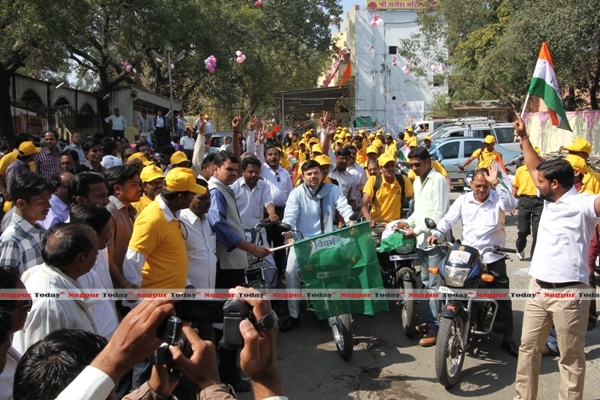 Dr Ashish Deshmukh in his speech on the occasion said, "Vidarbha's financial condition has turned precarious by the discriminatory policies of State Government. The educated youths of the region have been leaving their homes and families behind for employment in Western Maharashtra and other places in the country. The Parliament session is from February 5 to 19. Parliament is passing a proposal on Telengana State during this period despite uproar in Parliament and in Andhra Pradesh itself. Our non-violent agitation for independent Vidarbha State has been going on but the UPA Government at Centre has been neglecting the people's demand. The Central Government should come out with a resolution in Parliament for Vidarbha State along with Telengana before our peaceful agitation turns violent. I will not sit resting until separate Vidarbha is carved out. Vidarbha-loving people have stood behind me and wholeheartedly supported the demand for separate Vidarbha," Dr Ashish Deshmukh said.
Dr Deshmukh threw light on various unfortunate aspects embroiling Vidarbha like suicides by more than 32,000 farmers due to staggering irrigation backlog, no agricultural process industries, economic backlog, absence of agri supplementary industries, negligence of tourism, wastage of mineral sources, Mihan's shabby state of affairs, poor situation on energy front, exodus of educated unemployed youths, Naxalism, malnutrition etc etc.
Others who were present during 'Yuva Elgar Rally' flagging off include Ahmed Qadar, former MLA Bhola Badhel, and others.