15911 registrations; 10297 job-seekers; 45 'A' listed companies; 1376 job-offers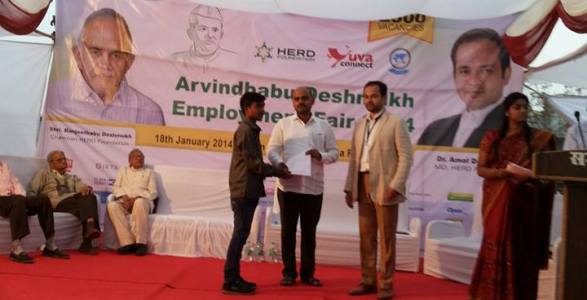 Nagpur News.
On 18th Jan  Somalwada Ground, Wardha Road, Nagpur saw a long queue of young aspirants looking for employment at ARVINDBABU DESHMUKH EMPLOYMENET FAIR – 2014 (ADEF) organised by HERD Foundation under the initiative Yuva Connectin association with CIBMRD. First time in the history of Nagpur such a huge employment drive has taken place, a vision of Dr. Amol R. Deshmukh, MD, HERD Foundation.
ADEF – 14 was inaugurated by Ranjeetbabu Deshmukh and throughout the day many honourable guests visited the event. "Dr. Amol Deshmukh has save at least 10,000 people from becoming criminals by providing employment to 1400 people," said Manoj Sharma, SP-Rural. He went on to elaborate that one employment influences at least 20 other lives and gives them a life of dignity. He also went on to say that educationists, political families and people of influence should take cue from this and organize more fairs like these. Deepak Jhangiani, editor of Dalal Street Journal had come all the way from Mumbai and very candidly commented that he hadn't seen something like this even in the metros.
Echoing similar sentiments, Mangesh Indapawar from Maharashtra times said that in his 17 years of his career as education correspondent he had never seen such a well-organized employment fair of such magnitude. Gulabrao Thakare, Joint Director (DTE) appreciated the efforts of Dr. Amol R. Deshmukh and said such events were much need for the development of the region. Vikas Misra, editor Lokmat Samachar appreciated Dr Amol Deshmukh's initiatives in the villages for the youth.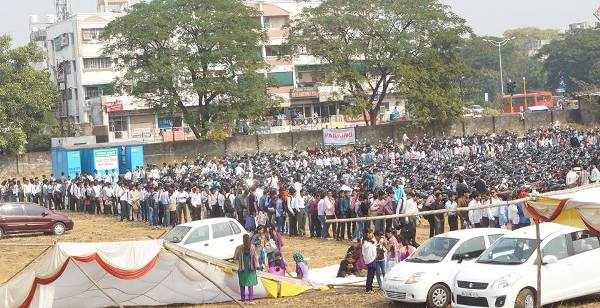 ADEF was declared in second-half of December 2013 and within 3 weeks 15911 candidates were registered from the city as well as rural areas.  The response was so overwhelming that the registrations were closed 5 days before the event. On the event day, more than 3000 eager youth had lined up outside the venue by 9 a.m.! Good 'A' listed companies like Eureka Forbes, Automotive Stampins, Café Coffee Day, etc. had come offering various types of job profiles to the uneducated, SSC, HSC, Graduates, PGs, MBAs, ITI, B.Ed., etc.
Around 1400 candidates were given offer letter the same day, another 1000 were short-listed and many more have been called for counseling on various options for jobs on subsequent days till 22nd January, at Central Institute of Business Management Research Development, Pawanbhoomi, Wardha Road.
Dr. Amol Deshmukh expressed, "Through our work of many years we have come in contact with hundreds of distressed parents and children looking for jobs, roaming door to door and office to office to get a reference for securing jobs.  We have also seen closely families which live on daily wage work not being able to provide higher education to their families or be able to conduct simple events (marriage/death) for lack of money. We have witnessed transformation in such families once a secure job comes in the family. This has been at the heart of our inspiration to provide job opportunities.We are sure that each of our Employment Fairs' will bring a much awaited smile to the job-seeker, his family….and transform their lives!!!"