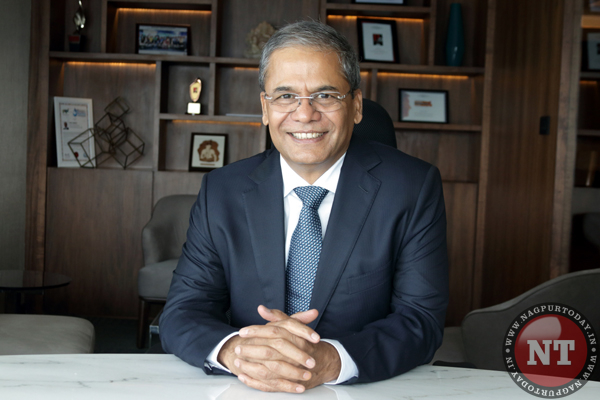 Nagpur: Its proud moment for Nagpur !!! An expert in Water Supply & Reuse of Waste Water Sector, Arun Lakhani, (Chief Promoter of Orange City Water (OCW) & Chairman & Managing Director of Vishwaraj Group (Vishwaraj Environment Pvt Ltd)) has been appointed as "Advisor to Central Government's "NITI Aayog" (National Institution for Transforming India) for Urban Water Supply Projects & Wastewater Treatment and Reuse PPP projects.
Arun Lakhani will provide all technical advice & inputs on "Urban water supply" and "wastewater treatment and reuse PPP projects" to NEETI Aayog which will be considered for finalizing the model Public-Private-Partnership agreements for such projects.
Arun Lakhani is chief promoter of Orange City Water (OCW) which is implementing the ambitious 24×7 Water Supply Project for the city of Nagpur. This project was acknowledged as best practice by Prime Minister Shri Narendra Modi. Arun Lakhani is also promoter of first of its kind Public-Private-Partnership (PPP), in Sewage treatment and reuse project of 200mld on 100% private funding. Both these unique projects are acknowledged widely at international and national forums and are being emulated by many towns, and in the government policies.
The Nagpur 24×7 Nagpur Project is running successfully for the past more than 6 years. Various operations and maintenance works carried out under the project. Arun Lakhani, believes in taking 24×7 project which is a Public-Private-Partnership project (PPP) to the "4P" model – the 4th P being People as citizens, without whose onboarding and active participation, social projects like water are difficult to succeed.
In addition, being a leader in water and waste water sector, the dynamic and versatile Arun Lakhani is also attached with various social, sports and cultural organisations like he is member of National body of Bharat Rural livelihood foundation (BRLF) – a Government of India funded Social Organisation.
Recently Arun Lakhani has been appointed as Vice-President of National Badminton Association. He is President of Maharashtra Badminton Association. He is President of Runadhar Trust – an organization working in skilling the suicide affected farmer families in vidarbha. He is President of Laxmanrao Mankar Trust – an organization operating 500+ single teacher schools in remote adivasi areas.
He is founder of SEA Foundation – promoting – Sustainability, efficiency and accountability. He is an also an active member of all leading Indian industry bodies including CII, FICCI and ASSOCHAM. As a thought leader in water sector, he is invited in various forums to share his experience.