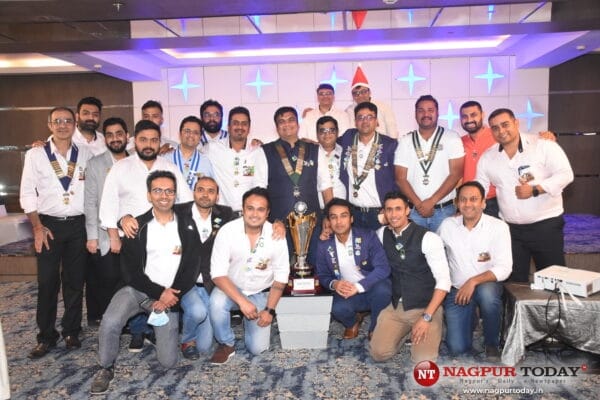 Nagpur: The Area Executive Meet of Round Table India, under leadership of Area Chairman Tr. Vedant Agrawal was held at Hotel Centre Point, Nagpur, on December 25.
A large number of members/Tablers participated in the event from different cities including Bilaspur, Raipur, Nagpur, Nashik and Mumbai. They shared and discussed their future planning in different areas such as Project Heal, Freedom Through Education and many upcoming community services, uplift of the society and helping the underprivileged.
Prominently present from Nagpur were Ajay Chandwani, Rahul Agrawala, Nilay Verma, Gaurav Chouksey, Dr. Kartikey Chaturvedi, Sunny Thakkar, Shubham Jain, Kunal Agarwal, Nishant Yaduka, Sharad Agrawal and others.
Round Table India (RTI) is an organization of non-political and non-sectarian young men between the age group of 18 and 40. The aim of the young men is to promote service, fellowship and goodwill in national and international affairs. Round Table India, the association, was formed in 1962 with just a membership of 100. It has, over the last 4 decades, grown to become a 4600-member strong association, individuals who can rise above personal concerns to seek and serve the larger needs of the community.
Even after 74 years of independence, millions of Indian children have never, ever been to school. Illiteracy is a self-fulfilling curse that perpetuates the chain of poverty, degradation and child labour. To reach out to this group of underprivileged children, since the year 1996, RTI across the country started adopting projects aimed at providing quality school infrastructure, and then in 1998 this project was formalized and thus born the National Project of Round Table India "Freedom Through Education" – In pursuit of educating underprivileged children.
Round Table India's focus on Infrastructure-Building is aimed at promoting Education for Posterity and hence RTI has put in colossal efforts to build FTE School Blocks across the nation. In the 23 Years of Freedom Through Education, 3149 Projects were undertaken, 7505 classrooms were built on 3 million sq ft area as on June 30, 2021 impacting 7.9 million children.