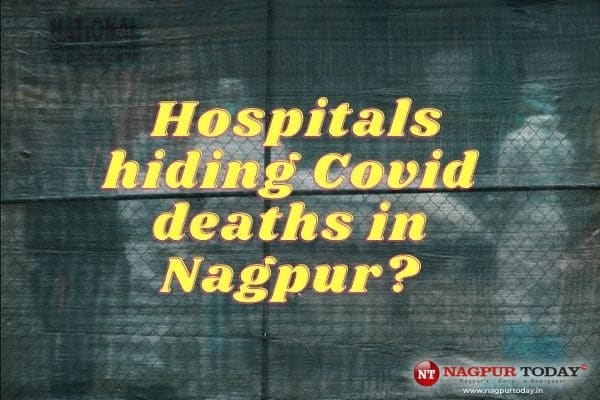 Nagpur: In a curious case reported from a prominent city based hospital, a patient allegedly recovered from the novel Coronavirus (Covid-19), was cremated adhering Covid norms! Though, it may seem a precautionary measure, sources claimed it was an act of the private hospital to hide Covid death in the Second Capital of the State. "The patient had died of Covid-19. Despite alerting Nagpur Municipal Corporation (NMC) team (who deals with Covid cremation) who actually buried the body as per adhering Covid norms set by the Government, the hospital administration has certified the patient as Covid negative," sources claimed.
According to sources, a Covid patient had died at a prominent city based hospital on Kingsway Road, recently. Though he was cleared of novel Coronavirus (Covid-19) – as per the hospital record – a team who deals with Cremation of Covid bodies was alerted. The body wrapped in plastic cover (as hospitals cover Covid bodies) was handed over to them for cremation. However, being cleared for virus borne disease, the hospital opted for adhering Covid norms while dealing with the body and family members too acted as mute spectators raising eyebrows over the fishy functioning of private hospitals handling Covid scenarios in the city.
When Nagpur Today contacted the concerned hospital, the representative said that, though a concerned Covid-19 patient when brought was admitted to their hospital, he had tested negative of the virus borne disease a day prior to his death, hospital officials emphasized.  It may be noted here that this patient was tested poistive in another hospital of the city before been shifted to this hospital which means at the time of admission he was infected with Covid-19 virus. However, on being puzzled over the role of Nagpur Municipal Corporation (NMC) team who deals with Covid body's cremation, the hospital refrained from providing any concrete explanation.
No one will argue that compared to the heyday of the second wave of Covid-19 that wreaked havoc in Nagpur, the current scenario is much more pleasant. The fresh cases are under control and the city has not witnessed any death in the past couple of months. However, the malpractice of such private hospitals by withholding the data of Covid cases and deaths for 'obvious reasons' could prove severe for future.