Nagpur News : A joint event which includes Inter-Collegiate Technical as well as Non-Technical cultural competitions called Antaragni-Technorion 14 is scheduled to be held from February 24, 2014.
Many programmes are said to make this a very memorable event which is awaited by students of G H Raisoni as well as other engineering colleges. This year to make a difference a Mobile Application as well as Web-Site is going to be launched.
The opening day would kick-start with events like Mud Race and Boat Race, followed by inaugural ceremony at February 24, 2014. This ceremony would witness the presence of many dignitaries of the college along with the Pro-Vice-Chancellor Maheshkumar Yenkie who is the chief guest.
Many interesting events are scheduled in afternoon after 3 pm which include Inter-collegiate Singing competition 'Goonj, Street Dance at 5 pm and Inter-collegiate Rockband competition 'Apieciere' at 6:30 pm. Technical events like Android App Developer, Clay Modelling, Poster Competition, Breadboard and Non-technical events like Box Cricket, Face Painting, Rubik Puzzle Solver and many more would add to the opening day of Technorion'14.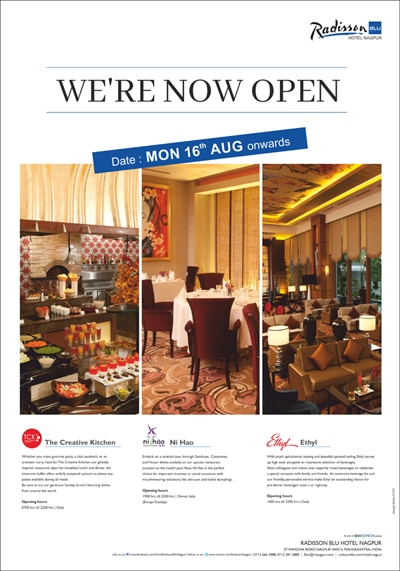 February 25 would witness events like Bridge Building, Paper Presentation, Blind C, Soccer Bots, Robo Wars and under non technical, events like Treasure Hunt, Minute to Win It, Bench Press and much more under Technorion 2014. Under cultural events Inter-collegiate dance will be organized at 4.30 pm followed by War of DJs at 6.30 pm.
February 26 would bring a closure to this mega event with cultural day as well as Intra-Collegiate Singing and Dancing. Wrapping up the Technical-Cultural extravaganza would take place by evening with the prize distribution and the most awaited Fashion Show will be held at 4.30 pm.
February 27 is the Celebrity Night. To make the icing on the cake, the organizers have arranged renowned Singer Javed Ali to perform for students. This concert will start at 6 pm and will be held at Hari-Ganga Campus of Raisoni Group.
This Technical-Cultural extravaganza is said to have as many as 20,000 footfalls of students from GH Raisoni as well as other Engineering Colleges. Many reputed personnel and experts in their field will be the judges for these events.
Cash Prizes worth Rs 3 lakhs is said to be given off for all the competitions put together.
Some of the competitions like Soccer Bots, Robo Wars are said to really very interesting and attracting a lot of entries from other engineering colleges.
The Press meet was conducted by Harsha Nandapurkar. The Coordinator of Antaragni-Technorion 14 is said to be Akshay Londhe, while Proffessor H S Dalvi is the in-charge Lecturer of the Antaragni-Technorion 14. Buddharatna Godbole and Abhinav Bakde chaired the press meet. The vote of thanks was given by Jessical Patel.