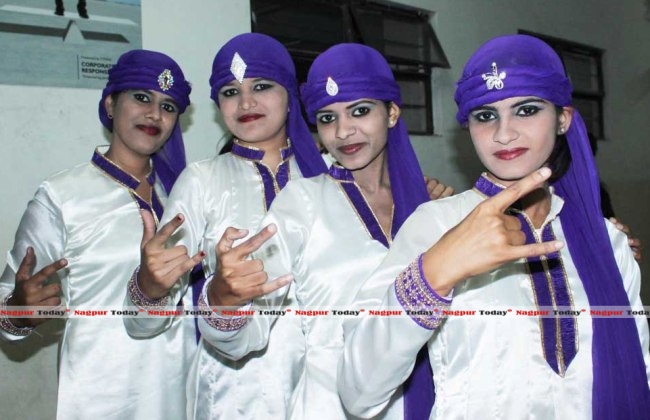 Nagpur Today.
Nearly 2000 students of different technical branches participated with full enthusiasm in the recently-concluded three days of 'Celestial 2014', the annual event of Anjuman College of Engineering and Technology, Sadar.
The three-day celebrations began with an Arts and Science exhibition that was inaugurated by Mrs. Fehmida Ginwala.
The exhibition included Wall painting, Grain art, hand art, hand and foot painting, Khana Khazana science model, block decoration and horror vs heaven.
A grand fete with games, food and entertainment stalls was opened at the hands of the Administrator, Justice Mr. A.A.Ginwala, in the presence of Principal, Dr. Sajid Anwar, Mrs. Uzma Firdous, Mrs. Sajid Ali, Mrs. Raziya Habib, Mrs. Rana Ilyas, Mrs. Sahiba Javed Anwar, Dr. Shaziya Khan, Dr. Arisa Parveen, Mrs. Arshiya Naaz and Mrs. Noorjahan Sheikh.
Various sports activities as well as debate, quiz, best student and other competitions were also organized as a part of the event. The Fresher's Day programme saw students of the new batch put up their best with songs, dances, dramas and a personality contest. Mr. Mushtaque Khan, a Bollywood actor was present amongst the dignitaries who graciously agreed to perform on stage as well.
Administrator of the college, Justice Mr. A.A.Ginwala was the chief guest of the main event that was a grand cultural evening.  The students presented dances, songs, tableaux and one-act plays based on social and ethical issues such as honesty, care for parents and sincerity in studies. Dr. Sajid Anwar, Principal of the college, Dr. Sheikh Shabbir, adviser to the institution, Mr. Moiz Haque head of Mass Comm. Dept. of RTM Nagpur University were also present.
The cultural presentations on the concluding day was followed by the prize distribution ceremony in which achievers in academic and extra-curricular activities were honoured by the hands of Dr. Sheikh Shabbir and various heads of institutions under Anjuman Hami-e-Islam. The events were planned under the guidance of Principal, Dr. Sajid Anwar and Convenor, Mr. M. S. Khatib along with staff and students of Computer Science and Engineering Department had worked hard for the success of the gathering.
PICS BY : Vinay Thorat