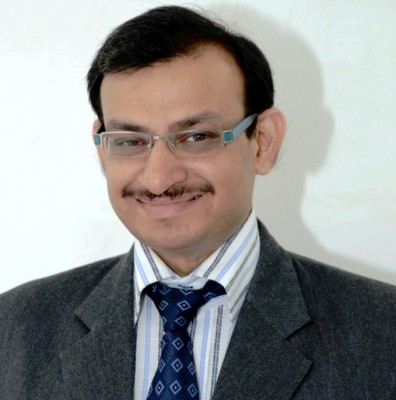 Nagpur Today in an exclusive, speaks to Dr. Sameer Paltewar about Meditrina and his Vision.
Marcello Azavedo: Sir, there are so many hospitals coming up today in Nagpur, with what ideology has Meditrina come up?
Sameer Paltewar: This is the question everybody asks me very often since we have come here to Nagpur about 5 months back. Even when I go out to brand Meditrina, people walk up to me and ask me about the hospital. I start my talk with a simple question. Why Meditrina?
There are so many hospitals situated in Nagpur for Example if you have a look at where Meditrina is located, i.e. Central Bazar Road, Ramdaspeth area is mentioned in the Limca Books of Records for the highest number of Medical Practioners in a per square kilometer area. The question they ask as to why 1 more hospital around this area. I address my Question by saying that we at Meditrina treat 1 human being as 1 person. With the advances in medical sciences they have being specialties that have been developed and specialist doing one set of things in a better way than a generalist would have done. So being an MBBS I know every system of the human body but being a broad specialist I know about one system of the body in a much better way that a generalist or an MBBS know's that's the difference between  MBBS and MD/MS. With the evolution of medical sciences, research has been carried out over the centuries. Modern medicine has developed and there is an explosion of knowledge thus there are Sub Specialties in the broad Specialty available today. I don't call them Super Specialty because it is Sub – Specialty. General Surgery is a broad specialty but there is sub–specialty in the general surgery spectrum like Neurosurgery, Cardiac surgery, Plastic surgery and so on. The reason for this sub-specialty is because medical science has developed lots of new techniques in medical science and moreover one person cannot do so many things at one time because of the explosion of knowledge. Now as a Neurosurgeon I only look about the brain, spine or the nerve but then the patients problems have to be treated as a wholesome manner and a lot of hospitals in Nagpur are dealing with the sub-specialty problem of a patient. But now patients suffer from multiple problems and if comes to me suffering from a cardiac problem I will have to tell him I can't help you. And then he will have to visit a cardiac hospital wasting a lot of time in the process. But then I think as to why does a patient need to run so much, why are we there as doctors if we cannot treat a patient in time. Therefore today I believe that time is not money but time is heart, brain and all other parts of the body. Today the diseases are spreading fast at breakneck speed and it doesn't give time to the doctors to wait. So our need is to diagnose the problem fast and act immediately that's where Meditrina comes in which is your one stop solution for all your problems.
Marcello Azavedo: Is Meditrina a super speciality hospital? And what specialities does it house?
Sameer Paltewar: Meditrina is not only a super-specialty hospital besides that we are focusing on 5 to 6 sub-specialities. The facilities which are not available in Nagpur city we cater to all those facilities. We are not here to compete with the already existing hospitals in Nagpur but to add to society a number of sub-speciality and sub-speciality related treatments which were not available in Nagpur. For example Neurosurgery there are already a number of neuro sciences centre's in Nagpur but here in neurosurgery what we have brought here in Nagpur is Neuro navigation systems, then we have bought the best of the best microscope, bone Quasar and also for the first time in central India we have an Intracranial pressure monitoring system. If I tell you what is the world standard of all the severely head injured patients is will shock you in all these cases the Intracranial pressure monitoring system is a must but no other institute in Nagpur or for that matter in central India up till Mumbai. There is where we have brought this cutting edge technology in Nagpur. This technology is available in the world but not in Nagpur and we wanted to bring excellences in neurosurgery, neurology, cardiac surgery, minimal access surgery, orthopedic and joint replacement surgery then to treat complex trauma and in the process to support all these super-speciality  we need state of the art critical care unit. There is where are internal medicine department with a critical care unit stands apart because even our ICU are equipped with air handling systems. Now with the air handling system there is a criteria for bone marrow transplant patients which is only available at Tata Memorial Hospital at Kharghar Mumbai. We have brought this system to Meditrina at all our ICU's. Here the air is changed 13 times per hour through a fine micron bacteria filter so that the hospital acquired infection doesn't affect the patient. This is our USP. We  as a healthcare unit want to provide a transparent and ethical therapy for the people of Nagpur.
Marcello Azavedo: Could you share your vision w.r.t Meditrina with us, going ahead what would be your mission?
Sameer Paltewar: There are some areas which Meditrina has not been able to address because of infrastructural bottlenecks. We are already in the process of expanding and also will start will radiation oncology unit and also a state of the art IMRT and IGRT kind of therapy for which the patients will have to go to Mumbai or in some cases abroad. All the facilities which are not available in Nagpur or central India we will bring them to Nagpur in the coming years. This is our vision to add to the society and not duplicating facilities.
Marcello Azavedo: Recently there was a news in one of the papers of Nagpur in context to Brain Stem Surgery, what is your view point in this subject please?
Sameer Paltewar: Brain stem surgery is a very difficult type of neurosurgery and very few kind of neurosurgeon in the country are attempting this kind of surgery. I guess one or two to be precise. Brain stem is the feet of our Consciousness. It's the control or speed for our respiration, heart rate. It's like the brain is the computer and the brain stem is the computer chip which controls the entire system of the body. When we operate on these areas we have to very careful and there are certain gadgetries which increase the safety of the patients. Whenever we operate on the brain stem we have a Fibre Tractography in our MRI cube where we image our patients preoperating so that we know which are the main stem fibers. There are many stem fibers going through the main stem. This helps me to directly enter the brain stem where there are no fibers and operate which causing any damage. Rather than cutting open I do splitting by my pre knowledge and with the help of the best imaging technology available at my hospital. I have been in Nagpur for 12 years and in the year 2001 I presented a paper on brain stem surgery on the national conference of pediatrics neurosurgery. I also reported 56 cases of brain stem surgery in my paperwork back then in 2001 and its not a new subject to Nagpur as many newspapers state this. Before I came to Nagpur in 2000 they were neurosurgeons who were performing this kind of surgery so this is nothing new for the Nagpur and I would like to tell them that his had being done way back also. What I was doing 10 years back I m doing the same thing now but with greater safety. This confidence that I posses is all because of the new techniques, microscope and better diagnostic tools available that increase the safety of patients.
Marcello Azavedo: Could you take us through the evolving trends in you specialized field please sir.
Sameer Paltewar: When I think about the evolving trends in surgery I remember where we are heading. Now the main trend that we are moving towards in surgery is minimal access surgery. In Minimal access surgery you have to treat the patient in such a manner that it causes minimal harm to the normal tissues. Why they are complications in surgery? It is because when we take out a certain part or treat a certain area we tend to damage the normal tissue causing complications. This is because in neurosurgery we are treating very allocating areas where even 1 millimeter mistake can cause catastrophic consequences to the patient and thus there is always a fear in the mind of people towards neurosurgery. Then how do we overcome this is by doing imaging technique, neuro navigation system etc. In neurosurgery we are moving for open surgery to minimal surgery. The other advancement is that now days we are doing key hole surgery where we make a small hole in the head instead of shaving the head completely these are the new techniques in minimal access surgery today. Now we are going towards functional neurosurgery where we treat epilepsy trigeminal neuralgia and many more by this functional neurosurgery. Neurosurgery, Minimal access surgery and Functional neurosurgery are the evolving trends of surgery.
Marcello Azavedo: From the point of view of healthcare services in Central India, do you have any message for our readers?
Sameer Paltewar: My message is that there are certain subset type of treatment therapies that are now available specially like heart stroke and brain stroke. We call them heart attack and brain attack. Heart attack everybody knows but brain attack no one knows. Whenever there is less supply of blood to the brain/heart it gets depleted and there is a problem. The brain cannot survive more than 2 minutes if blood supply doesn't reach the brain or heart thus we have a state of the art stroke unit to treat brain attack and heart attack. If the patients reach to us within 3 to 6 hours, this is the only window period  that we can give these therapies so it is the responsibility of the citizens to react quickly. They have to also educate themselves about these centre's and their numbers and will have to react quickly. We also have the cat lab and ICU adjacent so that no time is wasted.
Marcello Azavedo: How would you differentiate Meditrina among other hospitals in Central India?
Sameer Paltewar: We are focusing on those areas of medical sciences and facilities which were not easily available to the people of Nagpur and this makes us different from other hospitals in Nagpur. We are not into general therapy but into specialized therapy and also at a very reasonable rate.
Marcello Azavedo: Anything sir, you would like to comment on the changing trends in healthcare?
Sameer Paltewar: I will congratulate the Nagpur Medical Fraternity for making such great strides in the medical field. Here we at Meditrina with our state of the art facilities provide the platform for the upcoming medical interns to practice their work. They will not have to go to out stations places to profess their trade. In the last 9 to 10 months there have been a lot of doctors that have been in contact as they want to come to Nagpur and work in order to give back to the society what they have learnt.
Marcello Azavedo: What is the significance of the Name Meditrina?
Sameer Paltewar: Meditrina name comes from the Greek mythology. The followers of modern medicine follow the Hippocratic Oath. And hypocrites was the first human physician in Greek mythology and the guru of Hippocratic was Asclepius and Asclepius has six daughters one of them was meditrina known as the goddess of  healing  that's why we  named our hospital Meditrina. The reason also for naming it Meditrina is because we heal patients in our hospital. And that's why are motto below the hospital is "Temple of healing". This is the significance of meditrina to  heal a patient in the best and most transparent manner .
– Marcello Azavedo