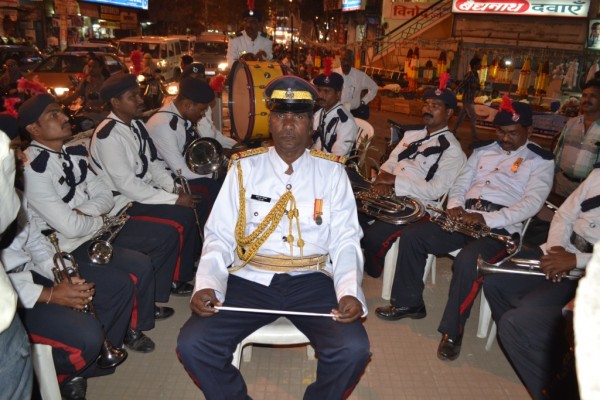 Nagpur News:
The Ambazhari Police Station is observing the Maharashtra Police Raising Day in a unique manner. They organized the police band on the Laxmi Bhavan Square. They played beautiful and melodious numbers on the band. This was a refreshing sight from the usual sight of cops making challans on the square.
The entire programme was conducted under the abled guidance of Assistant Commissioner of Police Jaiswal and Senior Police Inspector In-Charge of Ambazhari Police Station.
The Band included ASI Suresh Lokhande who was conducting the band. On the clarinet they had Havaldar Ramesh Wankhede, on the trumpet they had NPC Bhaurao, Gyaneshwar Taiwade, PC B D  Wankhede, PC N M Kapde & NPC MP Taiwade. On the Euphonium they had Subhash Khendar and NPC M R Taiwade, on the drum they had Gajanand Taide, on the Base Drum they had NPC K P Dongardive, on the Cymbals they had Amrut Lal Mandekar.