Always remember and follow Three "H" for a successful professional life – Hemant Lodha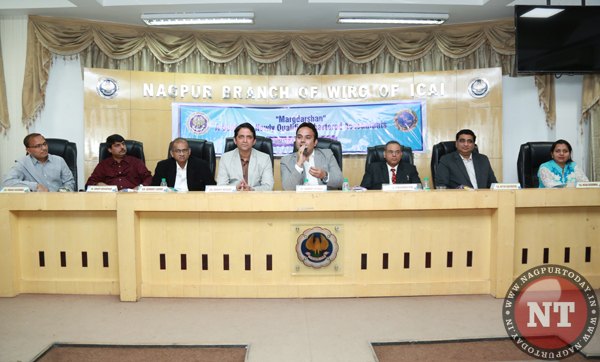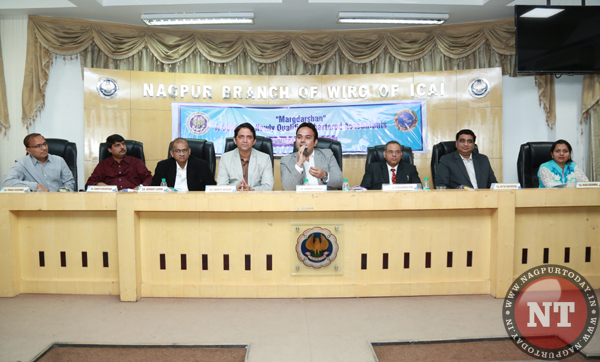 Nagpur: After qualifying a Chartered Accountant has various options to move further in professional life. It's a very bold and important decision which we should take after giving proper thought and taking appropriate guidance. After choosing the right path we should follow some principles as well in our profession. We should try to achieve three "H" i.e. Honest Money, Helping Power and Heroic Fame which will help us to lead a successful professional life said CA. Hemant Lodha. He was speaking at "Margdarshan" a program designed by Nagpur Branch of ICAI to guide the new entrants to the profession.
CA. Sitaraman Iyer, mentioned that Indian Chartered Accountants are known for their skills and ability. Always remember that Honesty is the best policy and adopt this strategy with a long term vision. In profession, another important thing to remember and learn is patience. We have to learn to balance between professional and personal life and should also give sufficient time to ourselves and our family. In the race of compliances, always concentrate on your physical fitness which many time people ignore. Create a benchmark of your standards along with the fees which should be charged and strive hard to give the best output to your clients.
CA. Nitin Sachdeva mentioned that we are in a profession where we should continuously study new things and should update ourselves. We all may have different priorities in life and it's important that we should first understand them clearly. We all are many times flooded with work and in such circumstances to give the best value addition, we have to do ABC analysis and work and concentrate accordingly. There are multiple new areas coming for the professionals like Chartered Accountants, we have to understand and grab the right opportunity at the right time.
CA. Pankaj Agrawal, mentioned that we should focus on not just compliances and Audit but we should also focus on value addition of clients for which we are equally capable. Chartered Accountants can also be a good entrepreneur but for that we should remember that it's not a job of 10 to 6 but it requires commitments beyond limits. You should never leave any stone unturned and with your commitment you all will achieve new heights in your professional and personal life.
CA. Neha Agrawal mentioned that lady Chartered Accountants can be good in practice as well. Jobs are demanding but even family commitments are very high as well it requires lot of time. Under such scenario it's important to understand to balance things which can be done with proper planning. We have to first set our goals and also should priorities them which will give a clear picture in mind.
CA. Sandeep Dhodapkar in his talk mentioned that Articlseship is one of the most important steps in our professional career and this will help us in taking appropriate decisions. Time is one of the most important asset which we have and remember not to waste anyone's time and also don't let anyone to waste yours. In the present era, when everybody is updated with the provisions, we should update ourselves on regular basis. Innovation is equally required and we should work on that aspect as well.
CA. Abhijit Kelkar, Regional Council Member in his brief remarks mentioned that we are fortunate to have such distinguished CA's who have proven themselves in their respective fields and are available today to guide the new entrants to the profession. He Congratulated Nagpur Branch for starting this series which will be of immense benefit to the newly qualified Chartered Accountants.
CA. Sandeep Jotwani, Chairman of Nagpur Branch in his welcome address mentioned that the most difficult day in the life of a CA is the day when he qualifies. A CA has so many areas to choose and work and they should be guided properly in the initial phase so that they can choose the right path. With this intention this program is designed for the new entrants
CA. Swapnil Ghate co-ordinated the program whereas CA. Suren Duragkar proposed formal vote of thanks.
Prominently present on the occasion were CA. Umang Agrawal, CA. Kirit Kalyani, CA. Saket Bagdia, CA. Jitendra Saglani, CA. Sanjay Agrawal and members in large numbers.