Nagpur: Kanhan River being a Non-perennial, to ensure sufficient raw water availability at the NMC-OCW's Kanhan Water Treatment Plant (WTP) intake wells, it is a normal practice to release additional water into the Kanhan river during onset of summer season.
It has been done in co-ordination and internal communication with NMC-OCW and Irrigation Department.
Surprisingly this year the river water started drying up very fast and hence, additional water had to be released from 19.4Km chainage on Right Bank Canal on 22nd Feb,2017, whereas last year the additional water was released on 22nd of March, 2016.
Since 22nd Feb, 2017(last 41days) approximately 4987.7 ML or 102.14MLD of water has been released into the Kanhan river.
Daily water supply report Date :- 11.04.2017 (Just for your information)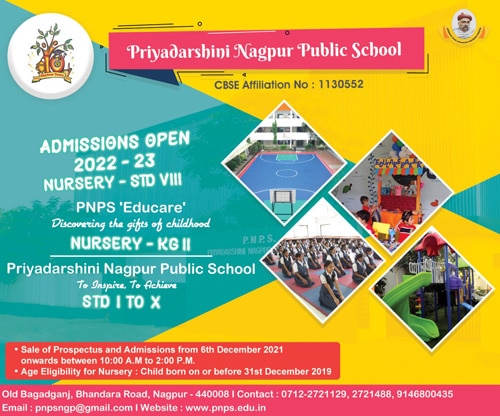 Pench – I. = 152.847
MLD Pench – II. = 138.700 MLD
Pench – III. = 89.883 MLD
Pench – IV. = 101.390 MLD
Old Gore wada =13.240MLD
Total from Pench = 497.477 MLD KWW. = 208.477 MLD
Total w.s. to city = 705.537 MLD.

Gorewada lake level dated 12.04.2017 = 314.48 m.

Raw water khairy MLD ( PUMPING Hours) Raw Water KWW : 213.923 MLD
Water to Gorewada BPT to Gorewada Water Treatment Plants is pumped from Navegaon Khairy reservoir and in turn it receives water from Totlahdoh Dam in Satpura valley of M.P.
Water reserves status as on 11th April, 2017(From the report of WRD) of these Dams is as follows:
Navegaon Khairy reservoir: 35.1 % (Capacity 185Mm3) = 64.9Mm3 and Totladoh Dam: 13.33%(Capacity: 1045Mm3)= 139Mm3
Considering the Monsoon sets in latest by mid July with normal rainfall, we shall require approximately = 530 MLD * 90 days = 47.7Mm3 of raw water to cater to the demand of the Nagpur city.
Hence, though the water reserve is less but not critical and the Nagpurians , especially from East, North and Parts of South Nagpur (on Kanhan WTP) should not be worried that there is going to be a water scarcity in the city.