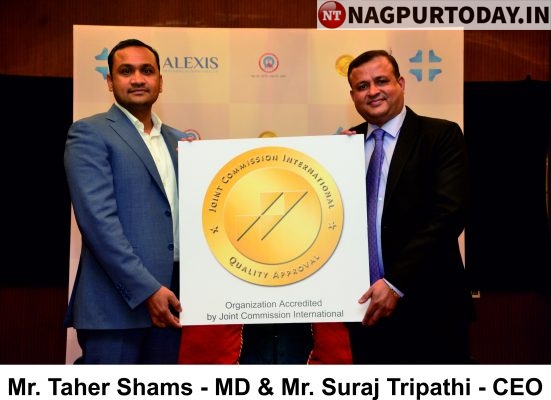 Nagpur: Adding one more feather in city's healthcare cap, Alexis Multispeciality Hospital has received Gold Seal accreditation from the Joint Commission International (JCI). The Hospital is now the first and only JCI Accredited Hospital in Central India and amongst the 39 hospitals across India
JCI accreditation is considered the gold standard in global health care. Over three years of operations there have been tremendous contributions to the society by Alexis. This is another step towards brilliance in medical care and Alexis will continue their pursuit for quality healthcare. After NABH & NABL accreditation, Alexis now received accredited by JCI, which is the renowned leader in international health care accreditation. JCI serves as a leader and partner in diverse initiatives that focus on quality and safety improvements.
JCI accreditation makes the institute committed in keeping pace with the dynamics of global health care while remaining the standard bearer for the universally recognized Gold Seal of Approval. JCI is the oldest and largest standards-setting and accrediting body in health care; it evaluates more than 20,000 organizations and inspires them to excel in providing safe and effective care. JCI addresses the unique concerns of hospitals and academic medical centers, as well as the challenges of preserving quality care as patients move from inpatient to outpatient and other care providers.
For any hospital to have JCI is to adhere to 1198 clinical parameters set by the Joint Commission International encompassing the clinical qualities and patient safety compliances. At any given point of time, JCI expects an operational period of minimum 2 years for any hospital to prepare for this coveted accreditation. Alexis Multispeciality Hospital, Nagpur is one of the youngest hospitals across the world to have this accreditation achieved within the span of 32 months from inception.
As of now a total of only 39 hospitals across India are JCI accredited. This is a great achievement for the entire team of Alexis Multispecialty Hospital. Commending the team's accomplishment, Managing Director, Taher Shams said, "We are proud of our accomplishment and grateful to the JCI for their guidance in achieving this honor. We continue to enhance this culture of quality and safety and take pride in our brand that has been honored for excellence in patient care. The team has relentlessly worked towards this, keeping up international standards of quality care for every patient who visited us since day one. I congratulate the entire team on the accreditation and believe that this will raise the benchmark of the larger healthcare industry in India."
Adding to the organizations achievement within a short span of two and half years of operation, CEO, Suraj Tripathi shared "It is indeed a proud moment not only for Alexis Hospital but for entire Nagpur for being accredited with the Gold Seal by JCI which is the mark of highest clinical quality and patient safety in entire World. There are 1090 hospitals all across the World out of which only 39 hospitals are in India to have this mark of excellence. This was possible only because of our patients who entrusted us to be their best Healthcare Partner and believed in our clinicians to have the best clinical outcomes. Across central India region we are the only healthcare provider recognized for our high standards of quality care and patient safety. We commit to uphold our high-class operations maintaining an infection free, state-of-the-art infrastructure and a congenial environment for our patrons as a hospital shouldering greater patient responsibility and privilege of servicing the residents of central India."
Alexis Multispecialty Hospital is an offering and initiative of the Zulekha Healthcare Group, UAE to help serve the entire Central India community by providing the highest quality of medical care across various disciplines. The hospital employs renowned specialists and medical personnel supported by latest cutting-edge technology offering all-round care and comfort.
This state-of-the-art distinctive 210 bedded set up offers end-to-end multispecialty services in the areas of Comprehensive Oncology Care & Radiotherapy, Cardiac Sciences, Neurosciences, Orthopaedics, Critical Care, Minimal Invasive Surgery, Urology, Nephrology, Gastroenterology, Endocrinology, Gynecology, Pediatrics & Neonatology, Critical Care (CCU, ICU, NICU, SICU) & Internal Medicine, Joint Replacement & Arthroscopy, Trauma Services, Interventional Radiology & Preventive Medicines. To address the clinical requirement of Central India, Alexis Multispecialty Hospital will also have a Comprehensive Organ Transplant Unit.