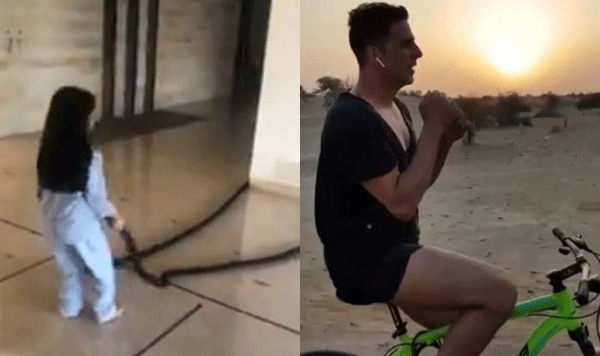 Health is wealth as the saying goes, and who to know it better than actor Akshay Kumar. Known for being a fitness freak, Akshay has been pushing the Fit India movement every chance he gets by sharing videos and photos of himself doing various physical activities. But the latest post from him on his social media pages is not only cute, but will definitely encourage others to exercise more.
Akshay shared a video on Sunday of his six-year-old daughter Nitara, and in it she can be seen doing battle rope exercise in her pyjamas and trying her level best to lift up the heavy ropes while her father encourages her from the sides. Akshay captioned the video: "Kids tend to pick up what they see…start early and try to set a good example. Great parenting. Active kids. #FitIndia."
The hashtag, #FitIndia, can be seen in many of his other videos where he is performing some exercise or the other. In one post he shared on his Instagram page, Akshay can be seen trying out some punches while riding a bicycle. He captioned the video: "Feeling free like you couldn't believe!! Working my #Core as I cycle No-handed on the deserted roads of Jaisalmer. Life is about Balance & Stability, as Functional as this may be, PLEASE don't try this on the Roads. #FitIndia"
In another post he spoke about how he enjoyed mornings, and captioned the video: "Always been a fan of mornings…even more beautiful here in Jaisalmer. Doing a neck exercise today and I personally love exercising outdoors as it helps boost the body, mind and mood. What about you guys? #FitIndia."
Fit India is a movement that was started by Prime Minister Narendra Modi in a bid to take the nation forward on the path of fitness and wellness. The Fit India movement provides a unique and exciting opportunity to work towards a healthier India. As a part of the movement, individuals and organisations can undertake various efforts for their own health and well-being as well as for the health and well-being of fellow Indians.