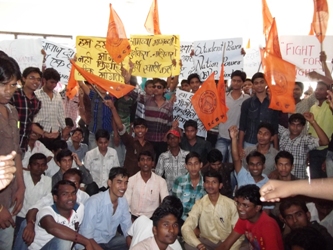 Nagpur : Around 500 to 600 student activists suddenly barged into the office of the Chief of Samajkalyan and 'gheraoed' him.
The reason behind this protest was because for the past few days there was contaminated water coming inside the hostel and that same water was being used to cook and it has resulted in some students getting ill.
The students did complain but all their efforts fell on deaf ears. Not getiing any response for more than 10 days, they decided to approach the Samajkalyan with a different type of protest. They also told us that the authorites never even come and see the state of affairs and that they are left in a very dangerous surroundings .
"This entire protest was simply to remind the authorities that if anything untoward would be done, it would be met by strong voices, as we protest for what is right" said one student activist.
T
he incident definitely caused some tension but the protest was carried out in a peaceful manner. Police later intervened and got the matter under control.
%%wppa%% %%slide=32%%