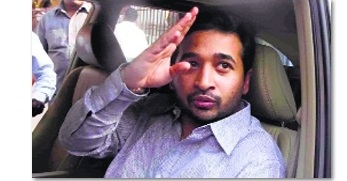 Nagpur News:
The Akhil Bharatiya Gujarati Samaj (ABGS), Nagpur Branch, has termed Nitesh Rane's statement against Gujaratis in Mumbai and Maharashtra as immature and condemnable. Nitesh Rane is young but lacks knowledge of history and the present situation. Gujaratis handsomely contributed in the development of Mumbai and Maharashtra. Gujaratis have never played politics of caste, religion and hate. On the contrary, Gujaratis blend themselves in any place like sugar in milk and that is why Gujaratis have been honoured as Global Citizens, said the Akhil Bharatiya Gujarati Samaj.
"Nitesh Rane hails from a good family. His father is a senior Congress leader and is a responsible Minister in Maharashtra Government. Nitesh should always remember this in public life," the ABGS stated.
The meeting called by the Akhil Bharatiya Gujarati Samaj unanimously condemned the statement Nitesh Rane and requested the Maharashtra Government to take appropriate steps so that nobody makes such statement against Gujaratis.
The meeting was attended by President of Gujarati Samaj Ramdas Vajani, Honorary Secretary Vinodrai Nagreya, former President Jayprakash Parekh, Chetanaben Tank, Adv Shailesh Dwivedi, Rajesh Katkoyiya, Laherchand Patel, Pt Yogesh Joshi, Hasmukh Saglani, Yogesh Ashar, Adv Rajesh Shah, Dinesh Parekh, Rambhai Mangroliya, Ghanshyam Mehta, Mohan Patel and others.
It may be recalled that Nitesh Rane had made a statement that all Gujaratis who adore Gujarat Chief Minister Narendra Modi and his Gujarat model of development' should quit Mumbai and migrate to Gujarat. He had tweeted his views on Friday and reiterated the demand on Saturday.