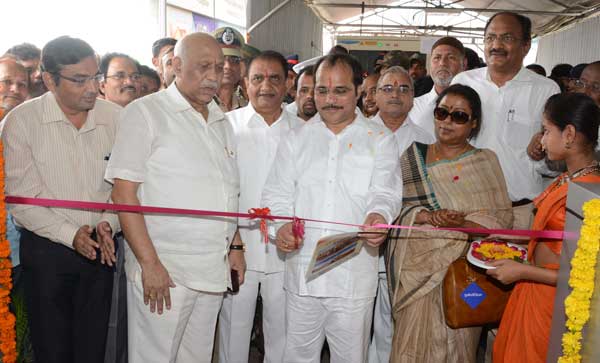 Nagpur News.
Nagpur MP Vilas Muttemwar got another shot in his arm as his efforts once reached out to bear positive results. The latest in the series is a plush new waiting hall and an elevator at Ajni railway station. Minister of State for Railways Adhir Ranjan Chaudhary was in Nagpur on Monday to inaugurate the facility. Besides Muttenwar, Guardian Minister Shivajirao Moghe, MLA Dinanath Padole, Ward Corporator Tanvir Ahmed and Divisional Railway Manager Brujesh Dixit and other top railway officials were present on the occasion.
The Minister of State for Railway also inspected the 100-year old Railway Over Bridge. Upon instance of Muttemwar, Chaudhary also assured construction of new world class over bridge with in assistance with the Central Government and State Government.
In the morning, the Minister Adhir Ranjan Chaudhary inspected Ajni Railway Colony, Motibagh-based Diesel Loco Shed, Railway Hospital in Ajni, where Muttemwar apprised him of various problems being faced by the Railway employees. The minister promised better health facilities for the employees by launching various schemes.
The Minister visited the Nagpur Railway Station and inspected the facilities for passengers and went to base kitchen and the passenger waiting hall.
Minister assures Muttemwar of not shifting Motibagh loco shed
During his visit to Motibagh-based Diesel Loco Shed, the Minister assured Nagpur MP Vilas Muttemwar that the Loco Shed will not be shifted to any other place keeping in mind the interest of the employees. "The Diesel Loco Shed was supposed to be shifted to other place but honouring the request by Muttemwar, now the Loco Shed will not shifted to any other place," Chaudhary said. Present on the occasion include EGS Minister Nitin Raut, City Congress Spokesman Sanjay Dubey, Minority Cell President Sheikh Firoz and others.