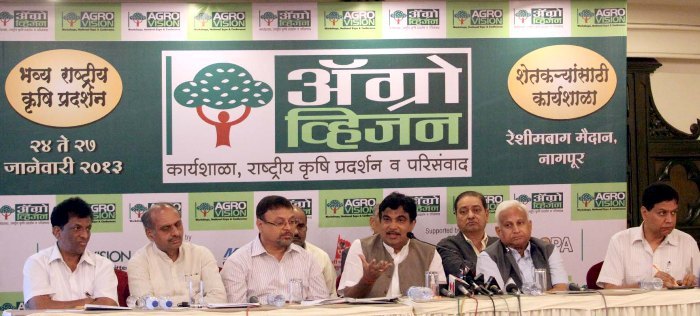 Nagpur News.
Agro Vision 2013 – the central India's biggest agricultural event would be organised at Reshimbagh Ground in Nagpur from January 24 to January 27, 2013. Apart from a a grand national exhibition Agro Vision would also throw some useful workshops to resolve various issues concerning farmers. Experts from various parts of the country would be participating in these workshops which would be conducted. The preparation has already been picked up.
Nitin Gadkari, the Chief Coordinator of Agro Vision, informed that free workshop for farmers would be the main part of this programme. The workshops would be organised all day long during all the three days. 60 experts would provide essential guidance and detailed information to the participating farmers on various topics.
Agro Vision 2013 would be inaugurated on 24th January at 3 pm. The inaugural ceremony will be marked with the special presence of Agriculture Minister of Rwanda Dr. Agnes Kalibata, Maharashtra Agriculture Minister  Radhakrishna Vikhe Patil, Vinay Kore, President, Varna Group and Subhash Deshmukh, President, Lok Mangal Group.
Nitin Gadkari, Chief Coordinator of Agro Vision, Dr Ravindra Dani, Vice-Chancellor, Dr Panjabrao Deshmukh Krishi Vidyapeeth, Akola, Dr CD Mayee, Vice-President Agro Vision Advisory Committee and former presidents, agriculture experts and all the honorable members of the committee would be present in the event.
About 50,000 farmers participated in Agro Vision 2012.  Gadkari exuded confidence of similar response this year too.
More than 150 companies from around the nation would be displaying their products and services in Agro Vision 2013. The propositions mainly include tractor, agricultural equipments, seeds, fertilizers, pumps and various irrigation methodologies. The farmers would get to see the most advanced and upgraded equipments that have revolutionized agriculture sector.
Among the tractor and agro equipments manufacturing companies participating in Agro Vision 2013 include New Holland, John Deere, Mahindra and Mahindra, Eicher, Gasio Gasparado, VST Tillers.
The seed provider companies like Mahico, Monsanto, Ankur Seeds, Panchganga, Padmavati and Daftari Seeds would be also be assisting farmers in the exhibition.
The fertilizers and insecticides manufactures like United Phosphorous, RCF, Deepak Fertilizer, Mahafed and Zuari along with those operating in irrigation sectors like Netafim, Jain Irrigation, Ashirwad Pipes, CRI and Falcon Pumps would also display their propositions at Agro Vision 2013.
Among other nominated enterprises set to participate include NABARD, Bank of India, Vainganga Banka, Panjabrao Krishi Vidyapeeth, Maharashtra Animal and Fisheries Sciences University (MAFSU) and various various deparments.
Besides, ACC Cement and TATA Agricoz would also be participating in the mega event, Gadkari informed.
The technicalities involved in production of various vegetables and crops would be rendered in detail at Agro Vision 2013. Almost every topic regarding the budget, production cycle, various government schemes, agriculture industries and job prospects in agriculture would be discussed at stretch.
A special workshop would also be conducted to guide 11th and 12th students studying agriculture. The topic of the workshop would be "Various Opportunities in Agriculture Industry". Gadkari has appealed to the education institutions to volunteer their students at these workshops.
Anna Patil, Y.B. Ramkrishna, Jai Uppal and Vihar Pancholi would be the prominent speakers at the workshop on "Opportunity and Utility of Energy from Biomass".
Those who were present at the press conference included Girish Gandhi, Ravi Boratkar, Ramesh Mankar, Devendra Parekh, Dr. C D Mayee and Vijay Kashikar.