Aged woman ends life by jumping into a well in Nagpur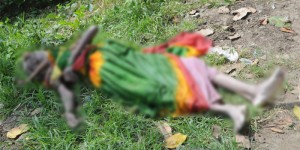 Nagpur News:
An aged woman, fed up with the family problems, committed suicide by jumping into a well.
According to police, the woman Durga Shalikram Shende (64), resident of Shriyash Nagar, Narsala Road, Nagpur, ended her life by jumping into the well near Lord Hanuman Temple, Somwaripeth. Durga left a suicide note citing harassment by the family. The Sakkardara police received the information that a body has been found floating in the well in Somwaripeth area. The police reached the spot and with the help of Fire Brigade pulled out the body. The police then informed the relatives who reached the spot and identified the body that of Durga Shalikram Shende. Durga used to work as utensil cleaner in the houses of some other persons. Apart from domestic problems, Durga was suffering from some disease. Durga committed suicide to escape from all the problems. Police sent Durga's body for post-mortem and have registered the case of accidental death at present and are investigating the matter further.