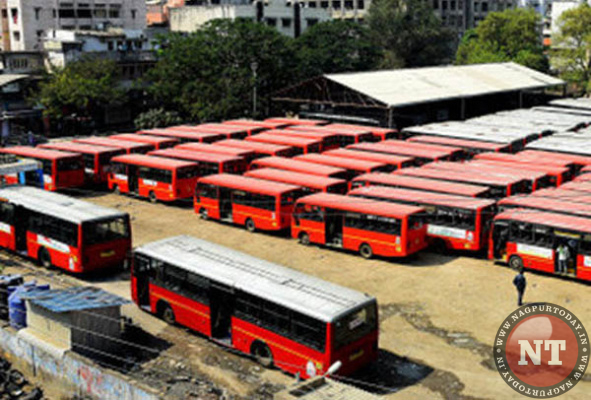 Nagpur: Action has been taken against 17 bus employees under the ESMA (Essential Services Maintenance Act) on Wednesday to normalise the paralysed bus service due to strike. The bus drivers and conductors called for the strike on the eve of the 12th Board exam. Action under ESMA was taken not only against the bus employees but also against Bharatiya Kamagar Sena's Secretary Ambadas Shende. Shende is also among the striking employees who have been demanding hike in wages along with other facilities.
NMC administration keeping in mind the Tuesday's experience had taken the help of police administration to take action. Under the police security the buses were being taken out from the Yeshwant Stadium depot. Bharatiya Kamagar Sena without bowing down before administration went to the court against ESMA.
The bus service is being run by four operator in city under Aapli Bus. Nearly a month before the NMC administration was warned that on not getting hike in wages, medical, Provident Fund benefits and joining letter the employees would go on strike. NMC administration had been dilly dallying in giving the minimum wages. Sensing that the demand would not be fulfilled the bus employees took a decision to go on strike.
The bus employees under the banner of Bharatiya Kamagar Sena went on strike on Tuesday and Wednesday. Looking to the Board exams the administration appealed to bus employees to run the bus service. Since the bus service was not started and pointing it to be the essential service action was taken under ESMA Act.