Achieve tax recovery target set for March 31, asserts Commissioner Shyam Wardhane

Nagpur News : Municipal Commissioner, Shyam Wardhane in a recently held tax recovery review meeting said that the staff delaying or ignoring the recovery work will not be spared.
The tax assessment and recovery department has so far achieved the figure of Rs 156 crores and municipal commissioner ordered for achieving tax recovery target of Rs 210 crore till March, 31, 2014. This was discussed during the review meeting of the department.
The review meeting was held at Shrimant Raje Raghuji Bhosle, Nagar Bhavan, Mahal on March 18 for assessing the position of target and actual recovery under the chairmanship of municipal commissioner, Shyam Wardhane. Present at the meeting were deputy commissioner, Pramod Bhusari, tax assessment officer, Shashikant Hastak, tax superintendent, D M Umredkar,assistant superintendent Madan Subhedar, all zone assistant commissioner/ ward officers, deputy inspectors, civil engineers, and concerned staff.
In the beginning, municipal commissioner, Shyam Wardhane took review of recovery at all the 10 zones and warned all the officers where the recovery is less than target to reach the target by March31. He also said that those ignoring the directive will not be spared and action will be taken against them. He stressed the point of time management for the areas where the recovery is less than target.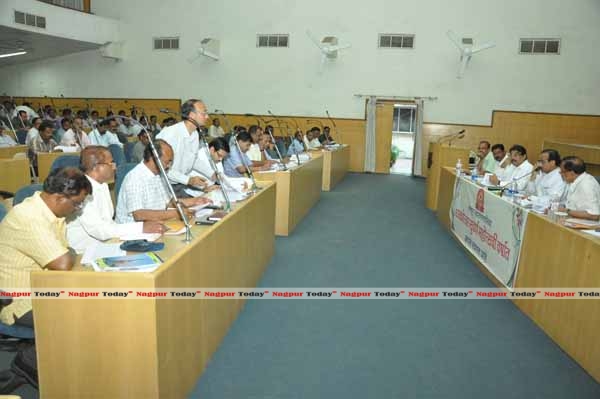 Commissioner said to take the help of all legal provisions for achieving the recovery target. He said taking into consideration the time available of only 12 days, how to achieve the target is now best left to the discretion of the concerned staff. From morning to evening only target should be kept in mind, he elaborated.
Planning is also important for the achieving of the target, he said. Wardhane said, even if some big personality phones you, you should tell them to pay the taxes in time in a polite way but don't fall prey to any kind of pressure. In the event of any contingency I will stand firmly behind you all the staff members, he promised.
Plan a route map, raise demand, warrant but achieve the target, this is your duty and you should stand up to it he exhorted the tax recovery staff.
Commissioner expressed displeasure for not achieving the target. But at the same time he also praised the staff at Dhantoli  office for achieving the target  and motivated the staff members. He said planning is vital for achieving this. He said the target should never be less than 100 percent. It is duty of every citizen to pay taxes so we are not asking them to do something more than that.
In this review meeting he warned without mincing words that stringent action will be taken against those achieving less than 50 per cent of the set target.