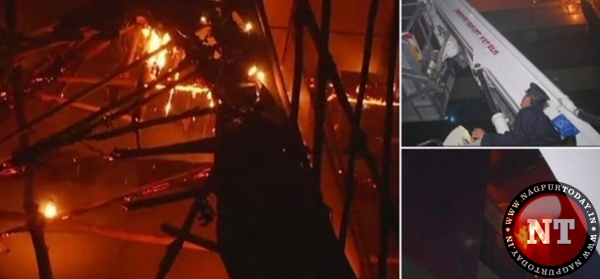 Mumbai: The fire officer, Rajendra Patil, one of the accused in the Kamala Mills fire incident which claimed at least 14 lives was granted bail by the Bombay High Court yesterday. Patil who was accused of culpable homicide not amounting to murder was granted bail at least five months after his arrest.
He was found guilty of giving fire clearances without ensuring proper compliance to rules. According to the police, Patil had given a false report and had hid an illegal shed covered with flammable asbestos sheet and tarpaulin constructed on the terrace, where the restaurants were located.
Patil was granted a bail of Rs. 45,000 by Justice Ajay Gadkari and he may be released from Arthur Road jail today. Justice Gadkari granted bail to Patil on the condition that he has to be present in the police station once a month and in the court on the date of the hearing.
In the chargesheet filed against Patil, a page from his diary where he made an entry regarding his leave on the day of the incident was found. It was also found that he had made an inspection of the restaurant cum pub 1Above on the same day, said a police officer. According to the officer, Patil had submitted a report for a fire NOC to the Brihanmumbai Municipal Corporation (BMC) on December 23, a day after the incident itself.
Mojo's Bistro, where the fire initially started, served hookah illegally and got gutted in fire along with the adjoining 1Above, on December 29 last year. The horrific incident took place at Mojo's Bistro, when the burning coal on the hookah counter was left unattended and the blaze spread to the adjacent 1Above, claiming the lives of 14 people.