ACB to observe Anti-Corruption Vigilance Week from Oct 26 to 31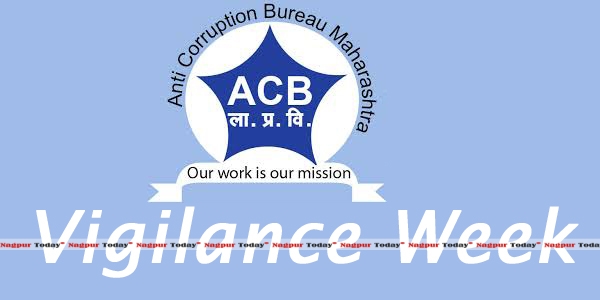 Nagpur: The Anti-Corruption Bureau (ACB), Nagpur Range, is organizing an Anti-Corruption Vigilance Awareness Campaign Week from October 26 to 31 to mark birth anniversary of Sardar Vallabhbhai Patel. The ACB organizes Vigilance Awareness Campaign Week every year in its efforts to curb in Government organizations and at other places.
During the Vigilance Awareness Campaign Week, various programmes will be organized. During the week, the Department Heads and In-Charges of all Government offices will be administered Anti-Corruption Oath aimed at eliminating corruption at all levels. Thereafter, the messages of Governor and Chief Minister will be read out. A series of lectures, discussions and interaction sessions will be organized in schools and colleges to highlight ill-effects of corruption. The BSNL and other mobile companies have been appealed to send messages to the citizens for creating mass awareness against corruption.
The ACB, as part of Vigilance Awareness Campaign, has put up banners at vantage points across the city appealing people to lodge complaints against corruption without any fear. The banners mention Toll Free Phone No. 1064 and 0712-2561520/2560770/2561719/2562796/2561653 of ACB Office to facilitate lodging of complaints.  The ACB is also giving a wide publicity to Anti-Corruption Campaign through Telecommunication Department, local Cable TV channels, newspapers, cinema theaters etc.
The slogans coined by the Anti-Corruption Bureau to create awareness are as follows:
•    Say No to Bribe
•    Prevent Corruption – Protect Nation
•    Your Participation is Must To Fight Corruption
•    The Evil of Corruption – Let Us All Act to Eradicate It