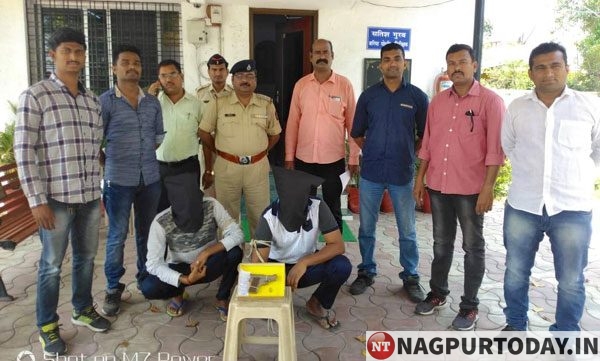 Nagpur: An absconding goon, wanted in attempt to murder and other crimes, was nabbed by Gittikhadan police on Wednesday night.The arrested wanted accused has been identified as Vinaykumar alias Lala Rajendraprasad Pandey (29), resident of Anant Nagar, Gittikhadan.
According to police, a gang of Sumit Thakur and his henchmen in 2018 had fired shots with a pistol and tried to kill another hardcore goon Kuldip alias Pinnu Pandey (26), also resident of Anant Nagar, Gittikhadan, over old enmity. An offence 288/2018 under Sections 307, 143, 147, 148, 149, 120(B), 109 read with Sub-Section 3+25 of Arms Act was registered in this connection with Gittikhadan Police Station. Cops had succeeded in arresting Sumit Thakur and others. But one of the accused Vinaykumar alias Lala Rajendraprasad Pandey had gone absconding and dodging the arrest since past one year.
On Wednesday night, when a team of Gittikhadan police was on patrol duty, they received secret inputs that the absconding accused Vinaykumar Pandey was standing at Jaffer Nagar Square. Acting swiftly, cops rushed to the spot and surrounded the wanted accused. Even before the accused could think of escaping the spot, the team of cops pounced on him and nabbed him. The accused Vinaykumar Pandey was facing many offences under Maharashtra Control of Organised Crime Act (MCOCA) and several murderous assaults.
The arrested was made by ASI Rajesh Lohi, NPC Nilesh Ingole, sepoys Vaibhav Kulsunge, Krunal Korche under the guidance of DCP Zone 2 Chinmay Pandit, ACP Marathe and Senior PI Satish Gurav.
It may be recalled that the notorious criminal Kuldip alias Pinnu Shashidhar Pandey was detained recently under Maharashtra Prevention of Dangerous Activities (MPDA) Act, 1981 and was sent to Central Prison in Aurangabad. The goon was involved in crimes of serious nature including attempt to murder, assault by lethal weapons, planning dacoities, riots with deadly weapons, damage to public properties, possession of firearms illegally, and several other crimes.