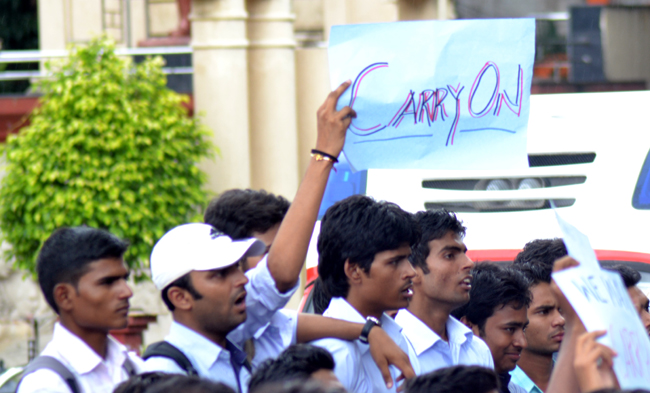 Nagpur News: Aam Aadmi Party declared its support for the just demands of RTMNU students on Indefinite fast, now into its 12th day from the very beginning of their Satyagraha Andolan. We still stand with the students organized under the STON banner and will continue to do so until the valid and just demands raised by them are achieved. We're proud of the fact that STON's Gandhian Andolan has been completely peaceful, despite all kinds of deliberate provocation by the University and other elements with vested interests. Nagpur University, acting in service of corrupt elements within itself, has so far used the media to try to hoodwink one and all into believing that their demands are "illegal" and that they are "failure students".
RTMNU has perhaps the highest examination fee of any University in the country. For example, supplementary exam fee is Rs. 2198/- irrespective of number of papers appeared for. Other Universities charge from zero to Rs. 100/- to Rs. 500/- for the same service. NU cleans up in excess of 20 crores as profit in each exam session. This may be irrelevant to the well off, but forms a significant barrier pushing college education out of the reach of poor students. We ask, is it illegal to demand a reduction of Exam Fees to bring them more in line with other Universities?
RTMNU's own rules stipulate that the Valuation of Examinations should be completed within 45 days. Shockingly, instead of completing valuation within this excessively generous time period, the University takes as long as 80 – 90 days to declare its results. In comparison, many Autonomous Institutions complete valuation in 7 days. Due to this long delay, students have to take provisional admission in the succeeding session. The session duration is also often reduced far below the minimum mandated 90 days of instruction. Is it illegal to demand rectification of this?
Despite the high exam fee charged and the excessively generous compensation to valuers, the quality of valuation at NU is abysmal, forcing a large number of students to go in for revaluation. Even revaluation is not done properly and revaluation results are sometimes declared after the end of the next session. This can only be rectified if disciplinary action is taken against the errant valuers, so students are demanding that damages should be recovered from the valuers and paid to them. What is illegal about this?
Lastly, students are demanding that the University should take responsibility for the above mentioned misdeeds and act to protect students' careers and their parents investments therein from the resultant Academic Harm. The remedy requested by them is that full carry-on facility be provided to them, which is completely within applicable AICTE rules.
Said AICTE rules only stipulate that backlog of examinations has to be completed at least six months prior to appearing for the final examination (8th semester) of the course, and it is perfectly feasible to grant full Carry-On subject to this stipulation. Yet, NU claims that Carry-On is illegal, without ever citing any specific rule under which they are so claiming. They have completely ignored the rest of the students' demands and finally in the crowning act of this farce, they have taken a decision to implement partial carry-on (which they themselves termed illegal) in order to benefit the interests of politician owned private colleges.
Aam Aadmi Party condemns all those elements who have colluded against the interests of students. Nagpur can truly achieve its potential and become a great city only if our University and educational institutions become centers of excellence, rather than the embarrassment that they are today. All our dreams of Nagpur becoming a center in the IT or Knowledge industry will remain just that – dreams, until we succeed in reforming our colleges and University and in producing quality graduates in significant numbers. It is the duty of all Nagpurians to aid in this effort.
We therefore reiterate our support to the students' movement and appeal to all citizens of Nagpur who share the aim of having a great University to do the same.