Nagpur News: "Tritiyo Onko, Therefore", literally meaning "The Third Act, Begins" was one of veteran actor Soumitro Chatterjee's most personal on- stage performances till date. The play, which marked the beginning of a three- day Bengali Drama Festival at Deshpande Hall, starred celebrated and respected actors Dwijen Banerji and Poulumi Bose, besides Chatterjee himself.
The set was simple and remained unchanged throughout the play. The three actors played numerous roles in their uniform costumes, speaking sometimes as the monsters inside Chatterjee's head, sometimes as his consciousness berating him and sometimes as the various people who made an impact in his life. It is a tribute to the concept, the script and the direction (the latter two by Chatterjee himself) that despite such simple presentation, these experienced actors were able to sway the audience from tears to mirth to tension to retrospection as and when they wished it.
The play took the audience through various incidences of Chatterjee's life, including school day escapades, his relationship with his family, the emotional trauma of the Great Bengal Famine and the conflict between theatre, poetry and a conventional secure career that he had once faced in life. The play went as far as exploring the hesitation he felt before baring his personal life on stage and his struggle to accept and continue with life upon hearing the dreaded words "malignancy ache" ("there is malignancy").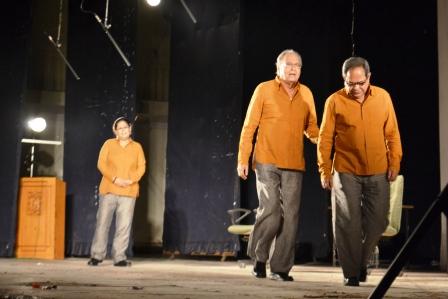 One cannot watch the play without being reminded that they are watching a Dadsaheb Phalke winner, an actor in innumerable theatre productions and over 300 films- including 14 by Satyajit Ray- a playwright, poet, editor, actor, a master in recitation (an art much appreciated and enjoyed in West Bengal) and director, with a career of 53 years behind him, Soumitro Chatterjee.
The drama festival was a joint effort by Bengali Education, Bengali Association and Paschim Nagpur Bangiya Samiti. Theatre personality Mahesh Elkunchwar was the chief guest.