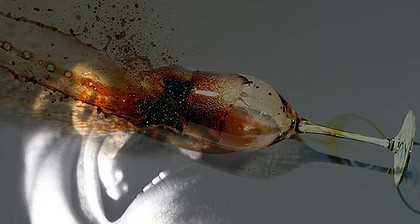 Nagpur News:
"Drinking is an emotional thing. It joggles you out of the standardism of everyday life, out of everything being the same. It yanks you out of your body and your mind and throws you against the wall. I have the feeling that drinking is a form of suicide where you're allowed to return to life and begin all over the next day. It's like killing yourself, and then you're reborn. I guess I've lived about ten or fifteen thousand lives now."
 "First you take a drink, then the drink takes a drink, then the drink takes you." .
Keeps you from killing yourself when things are bad. That and vodka."
"Alcohol may be man's worst enemy, but the Bible says love your enemy." 
These words and lines by great personalities world-wide appear simple and straight on liquor consumption. But not simple to tell the disastrous effects the stuff inflicted on the addicts. Millions and millions of consumers of liquor would take the words lightly and enjoy it with great passion. And millions and millions of homes would be destroyed with the near and dear ones suffering horrendous effects heaped on them by the addicts of the liquor. The countless homes were ruined in the past, are being ruined in the present, and would be ruined in future, too. The stuff has showed no mercy, Raja ho ya Rank (Be it a King or a Beggar)when it was an excess.  "First you take a drink, then the drink takes a drink, then the drink takes you," is true in all sense.
The entire nation must have heard million times that "Today's children are tomorrow's citizens, leaders, visionaries, and the future of the nation will be secured in their hands. There is a Mahatma Gandhi, a Lata Mangeshkar, a Abdul Kalam, a Jawahar Lal Nehru, a Bhagat Singh, a brave soldier among these present children."
However, the tell tale effects of the liquor consumption by thousands of young children has been described in the following story, or you can say it a tragedy. The pathetic situation is in Ganganagar area of Nagpur which is going through sleepless nights. The nights in the area have become terror of a sort as the noise of feet of drunk youths struggling to walk properly makes the residents uneasy. The area is weeping silently as more and more have become addicts to the liquor wreaking havoc in their homes and the families, too. "The Sweet Home" has become a distant dream for parents in the area as their children have not only become addicts but they are making their families on financial front, too.
A FAMILY'S TALE: A 14-year old boy Chinu (Not real name) starts from his home at 8 am with pots of glasses and covers all houses in Ganganagar and nearby areas. He gives pots of glasses to residents in exchange of human hairs or hair and sells them to wigmakers. In this way he earns a considerable amount in an easy way. Chinu also requests the residents, particularly the women members of the families to keep the hairs collected in their houses instead of throwing them in garbage bins. After returning home at about 3 pm he enjoys playing carrom with his friends in the locality. Till the moment everything is okay.  But then, unfortunately, Chinu enjoys liquor in the night till reaching to the position of no return to home in a proper manner. But after reaching his home Chinu witnesses the regular quarrelling between his father and mother over a petty or other issue. This scenario is witnessed uncontrollably in the other slums or roadside huts occupied by the nomads in Nagpur city.
Chinu is a member of nomad family which came to Nagpur from Andhra Pradesh. Residing in the roadside hut for 1-2 years the family shifted to Ganganagar. As far as education is concerned leave alone education Chinu and his friends have never seen the face of any school. However, he learnt a few lessons from 2009 to 2011 when an NGO People to People Society organized a sort of a school under a tree in Mahendra Nagar area. The founder of the Society Tej Dhamma lamented a shocking aspect that it took him a full one year to convince the parents of the children to send their kids to the school specifically meant for roadside dwellers.Childhood is that special time when the world is perceived as a place of wonder and fantasy in which all is clean and new and brimful of promise or, at least that is how childhood is supposed to be.
One of Chinu's friends Manju said they work for paying the loans taken by their parents. "We earn between Rs 300-500 per month," said Manju. The 17-year old Manju also divulged a disturbing fact that in their community marriages take place when children attain the age of 12 years. Another Chinu's friend Nagi said though we earn considerable money there is nothing left as far as savings is concerned.
A fact about Chinu came to know that a year ago his engagement was performed but the marriage could not take place as his engagement was over after Chinu found the girl not so beautiful. When asked to Chinu whether he would continue whatever education his answer was a flat no because he lamented that after a short period he has to say bye to education due to his parents' desire to earn money than get educated. Tejdhamma, too, held Chinu's parents responsible for not sending Chinu to his school for the sake of money. Chinu also supports Tejdhamma and asserts that his parents are the main obstruction in his desire to get education and make his future somewhat better. Okay. But what about consumption of liquor.
Are Chinu's parents allowing him to have a glass or two of liquor and not education? The answer lies with Chinu and other thousands of Chinus.