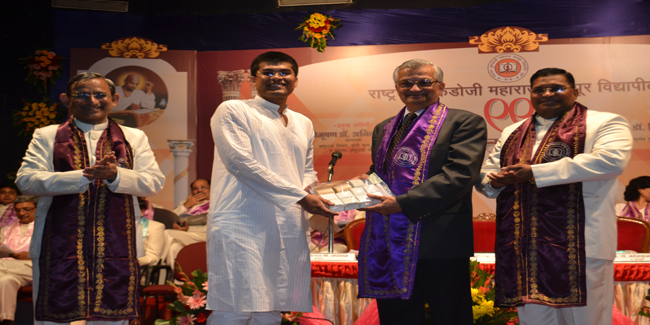 Nagpur News : The 99th convocation ceremony was held at Vasant Rao Deshpande hall on Monday. A total of 380 students were being awarded with medals for their various achievements in their respective fields. The occasion was graced by Dr Anil Kakodkar  Padma vibhushan and member of Atomic Energy Commission . The event was also graced by the VC of Nagpur University Dr Vilas Sapkal. Dr Anil emphasized on the development of rural areas as an indicator of true progress of the nation and also exhorted students to work for the development of rural areas.RTMNU vice-chancellor Dr Vilas Sapkal presided over the function.
Dr Kokadkar further said that a major section of the country comprises of rural background. Many of them migrate to urban areas as the change is evident. To control this migration, rural areas should be developed, he said. Students should ruminate over these drawbacks and find a solution to it. He also said that universities play a vital role in molding the future and channelizing the goals of students. He suggested for changes in the pattern of higher education in the country. "Reformation is necessary to update knowledge imparted to each generation", he added.
VC Dr Sapkal informed of the various students' welfare programmes that the university is running. He urged more students to conduct research on various social issues. NU pro-vice-chancellor Dr Maheshkumar Yenkie, registrar Dr Ashok Gomase and other members of NU's management council were present on the occasion.  The medals were awarded by Dr Vilas Sapkal and the Chief Guest, Padma Bhushan and member of Atomic Energy Commission of India, Anil Kakodkar  To Aradhana Rewatkar .
In the ceremony, merit students of 2011 batch belonging to various courses were felicitated. Total 180 students of post-graduate and under-graduate courses were felicitated with 420 medals and prizes. 272 gold medals, 41 silver medals and 107 prizes were given away. Total 59,895 students were given their degrees. Out of 59,895 – 479 were to be given the PhD, 16,110 post-graduate students and 43,306 graduate students were to be given their degrees.  The programme witnessed a huge crowd as the entire auditorium was filled.