7 Most Gruesome Murders that shook Nagpur
Nagpur.
Nagpur crime graph has evolved to acquire a gory face during the last decade. The nature and intention of crime has taken the face uglier than ever. Rape and murders have topped the city crime charts followed by multiplying incidents of chain snatching, financial fraud and domestic violence.
But the most telling incidents that still haunts the memory of citizens
Nagpur Today recalls 7 most gruesome murders that rocked the city and brought turbulence in its aftermath.
  1. Akku Yadav Lynching – The Mob Fury
On August 13, 2004 alleged rapist and murderer Bharat Kalicharan alias Akku Yadav, 32 was brutally lynched by a mob of around 200 women from Kasturba Nagar in Nagpur district court, on the marble floor of the court room. Yadav was stabbed over seventy times, and chili powder and stones were thrown in his face. One of his alleged victims also hacked off his penis. He was reportedly bleeding next to the judge's seat. The women who killed him claimed that Yadav had been raping and abusing local women with impunity for over a decade, and that the local police had refused to help his victims or pursue charges as Yadav was allegedly bribing them. Yadav had also reportedly murdered at least three people and dumped their bodies on the railroad tracks. The lynching reportedly occurred when Yadav spotted a woman he had raped and called her a prostitute, enraging the crowd. In 2012, Akku Yadav's nephew, Aman Yadav was stabbed to death following similar circumstances. Five women were immediately arrested but released following demonstrations in the city. Every woman living in the local slum has claimed responsibility for the lynching. Usha Narayane, a local activist, was arrested and charged with murder, as were other women. In 2012, Narayane was released from custody. 21 other people, including six women, were also arrested and released due to lack of evidence.
  2. Kush Katariya – Killing of Innocence
Eight-year-old Kush was kidnapped and killed on October 11, 2011, after a ransom demand of Rs 2 crore. A case was registered at Nandanvan police station. His neighbour and family friend Ayush Pugalia was arrested within a couple of days of the incident. His elder brothers Navin and Nitin were arrested later, after it came to fore that they had extended indirect help to Ayush by disposing off his blood soiled clothes near Kasturchand Park. After the sessions court had awarded a rare double lifer to Pugaliya on April 4, 2013, for the gruesome murder, he had challenged it in high court. Bombay High Court awarded a rare triple lifer to Ayush. The state had also filed a case for enhancement of his sentence to death penalty. The killing of eight-year-old boy had triggered massive protests across the city that forced then chief minister Prithviraj Chavan to visit the grieving family and also name special public prosecutor (SPP) Ujwal Nikam to prosecute the case.
  3. Yug Chandak – The Horrifying Recurrence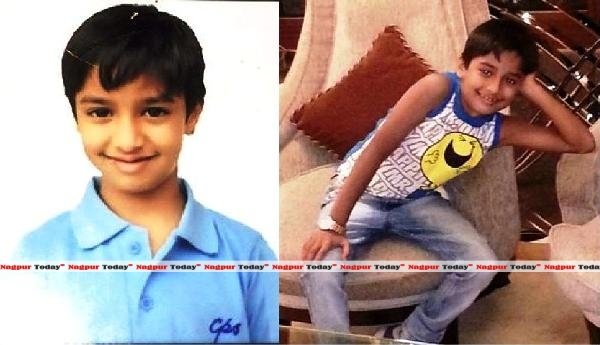 Similar on the lines of Kush Katariya murder, Yug Chandak the son of Dr Mahesh Chandak, was kidnapped on September 1, 2014 and later brutally murdered. Yug was picked up in front of his Chhapru Nagar house at Wardhaman Nagar by Rajesh Dhannalal Dawar (19), who was sacked from job by Chandak about a fortnight back of the incident, and Arvind Abhilash Singh (23), who then worked at the clinic. As the duo called the boy returning from school, the latter threw his bag towards the apartment's security guard and without doubting Rajesh's intentions sat on his bike. Yug was rendered unconscious with a chloroform-soaked handkerchief by Arvind, who was riding pillion. One of the accused calling himself as Mohsin had even made calls for Rs 10 crore ransom which was finally settled for Rs 5 crore. The ransom amount was to be delivered in Mumbai. The minor boy was later strangled, smothered and his head smashed with stones. The body was buried in sand under pipes and later thrown in a culvert in Patansaongi, about 30 kms near here, by the two accused, police said.
 4.  Monika Kirnapure – Deadly Mistaken Identity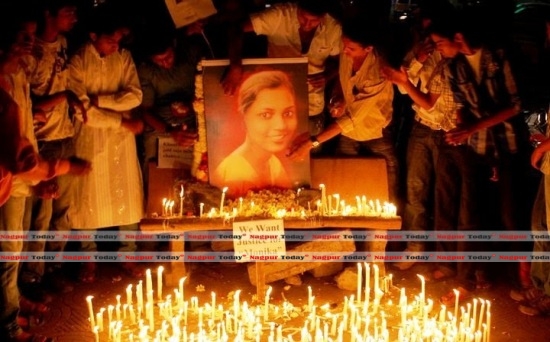 Nagpur city shook with the murder of a young engineering student Monika Kirnapure on March 11, 2011 because of a mistaken identity. On March 11, 2011 around 10.30 am Monika left for KDK College from Pratibha girls hostel alone. Monika was talking on her cell phone while walking towards the college which is 0.5 kilometer away. Just then, two hooligans aged around 20 and 22 years stopped her and hit her on her face with a knuckle duster and then stabbed her back with a knife after dealing many wounds on her hands and waste. Monika succumbed to injuries on the spot. It later turned out that it was a case of mistaken identity as the main conspirator in the case, Kunal Jaiswal, had hired the two assailants to kill a different girl who had refused to marry him. Monika had covered her face with a dupatta as protection against the scorching sun and was talking to her mother on the phone when she was attacked. Citizens of Nagpur had displayed a rare solidarity in protesting and seeking justice for Monica Kirnapure. The Nagpur court sentenced four convicts including Kunal Jaiswal to life imprisonment while two other accused, charged with destruction of evidence, were acquitted for lack of evidence. The girl who was supposed to be murdered was Rekha (name changed), who was also a student of Shrimati Rajshree Mulak College of Engineering for Women, was the target of the killers who had come from Katol. While Monica was a third-year student of electronics, Rekha belonged to the third year batch of computer engineering.
  5. Pintu Shirke –  Another Court Murder
Swapnil alias Pintu Shirke was brutally murdered on the sixth floor of dstrict and sessions court building on February 11, 2002 following the land dispute. Cops arrested few goons involved in the murder on the spot while others were held during investigations. Pintu, who was involved in some hefty crimes, was brutally killed with swords and other sharp-edged weapons in the court premises. Out of the 16 accused, one accused passed away during the trial.  13 years after this cine-style sensational 8 people were convicted on the charges of murder and were sentenced to life imprisonment while seven others have been acquitted for the lack of strong evidence against them. Those ordered life imprisonment include Raju Bhadre, Vijay Mate, Kiran Kaithe, Dinesh Gayaki, Ritesh Gawande, Ayub Khan, Umesh Dahake and Kamlesh Nimbarte. Those who were acquitted from the charges include Maruti Nauwa, Panjdurang Kinjewar, Mahesh Bante, Rajesh Kadu, Mayur Chavan, his brother Mangesh Chavan and Sandeep Sanak.
  6. Hemant Diyewar – Shootout at Shankar Nagar
Bharatiya Janta Yuva morcha (BJYM) vice-president Hemant Diyewar Hemant Diyewar was shot dead at Shankar Nagar Square on February 24, 2013. A gangwar going between two notorious gangsters over coal transportation in Ghugus mining area of Chandrapur was suspected to be behind the gruesome murder. The so-called mastermind of the murder Gulnawaz Khan Ejaz Khan alias Sheikhu and his aide Shivprasad Baijankiwar alias Shiva allegedly walked into Nandanvan police station along with a mediator after cops picked up their three close aides from Ghughus in Chandrapur. They were later handed over to Ambazari police station. On record, Sheikhu and Shiva were shown arrested from Jagnade square after they returned to city in a truck from Madhya Pradesh. Police also recovered a revolver and knife from them.
  7. Vijay Thawkar – The Bloody Gunshot
On October 6, 2012, Vijay Pandurag Thawkar, owner of Thawkar Jewelers was murdered in broad daylight in his own shop on mezzanine floor at Shriram Bhavan, Khankhoje Nagar, in Hudkeshwar area on Manewada Road. 4 assailants were aboard a Maruti car out of which 3 got down and barged into the jewelry store. Pointing the gun towards Vijay, the assailant asked him to hand over all the jewelry in the shop. Thinking about losing all the hard earned money, Vijay protested. Following this, the culprits fired bullet after bullet on Vijay out of which two bullets hit Vijay. Once bullet went through his head. He immediately died on the spot. The helper working in the shop also tried stopping the robbers. The robbers then hit helper on his head with a gun and fled immediately. The murder evoked a huge protest from the jewelers across the city.