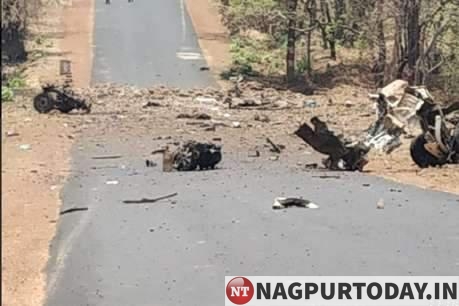 Gadchiroli: At least 15 Commandoes of have reportedly been killed as Maoists triggered an improvised explosive device (IED) blast and blew up a police vehicle in Naxal-affected Gadchiroli district on Wednesday. The Sub-Divisional Police Officer (SDPO) Kale was reportedly target of the outlawed.
A team of Quick Response Team Commandoes of State Police was travelling in the vehicle when it came under attack at Kurkheda near Jamurkheda. Some reports said there were 16 commandoes in the vehicle.
Exchange of fire was reported between police and Naxals at the site of attack in Gadchiroli. Heavy Naxal presence was
reported to be in the area. Some 200 Maoists were believed to be present, reports said. The area is being cordoned off.
Sharad Shelar, IG, Anti-Naxal Operations, said that reinforcements have been sent to the spot and air support will follow shortly.
The explosion occurred in village Dadapur, Tehsil Kurkheda in Gadchiroli district, according to Superintendent of Police Shailesh Balkawde.
The incident comes weeks after an IED blast near a polling booth in Gadchiroli on April 11, during the first phase of the Lok Sabha election. No one was injured in the incident. A day before that, a Central Reserve Police Force (CRPF) trooper was critically injured in an IED blast in Gadchiroli.
Earlier today, Maoists set on fire 27 machines and vehicles of a road construction company in Kurkheda.
The two incidents come on a day when Maharashtra is celebrating its foundation day. The Maoists were in the final stages of observing a week-long protest to mark the first anniversary of 40 of their members who were gunned down by security forces on April 22 last year.
On April 9, five people including a BJP legislator and four security personnel were killed in a Maoist-triggered IED blast in Chhattisgarh's Dantewada district.