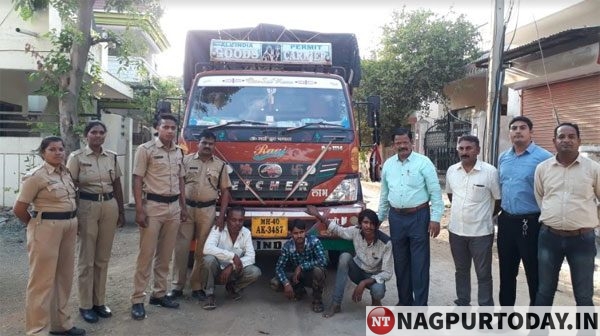 Nagpur: In a significant action before the polling for Lok Sabha elections, the Excise Department on Monday seized a truck transporting 11.56 tonnes of black jaggery worth Rs 13.19 lakh near Chorkhairi check-post. Three persons have been arrested in this connection. Black jaggery is used for making country-made liquor illegally.
During the checking drive, the sleuths of Excise Department inspected a truck (MH/40/AK/3487) on Wadchincholi-Chorkhairi road and found 11 tonnes of black jaggery being transported. However, the driver presented transportation papers and bills.
"We are investigating credibility of the papers following which further action will be initiated," informed Raosaheb Kore, API, Excise Department.
Following directives given by District Collector and District Election Officer Ashwin Mudgal, the Excise Department has launched drives to prevent liquor smuggling in view of Lok Sabha elections. During these drives, the Department on March 25 and 27 seized Black Jaggery weighing 4 tonnes. Subsequently, seized material was sent to Forensics Department, where it was established that the sugar drawn product was non-edible. Following which, the High Court had directed the department to generate the revenue by selling this seized product and handover the money to the Government.
The seized Black Jaggery was sold to 4 vendors who had M2 licence at the rate of Rs 20 per kg.
Since the implementation of Code of Conduct on March 11, total 222 offences have been registered and 171 accused have been arrested.
The seized liquor and other raw materials during this period include 3243 litres of brewed liquor, 51,180, 51,180 litres of raw material, 562 litres of country-made liquor, 111 litre foreign made liquor, 28 litre beer, 50 litre Tadi, 5 tonne black jaggery, nine vehicles collectively worth Rs 25.85 lakh.