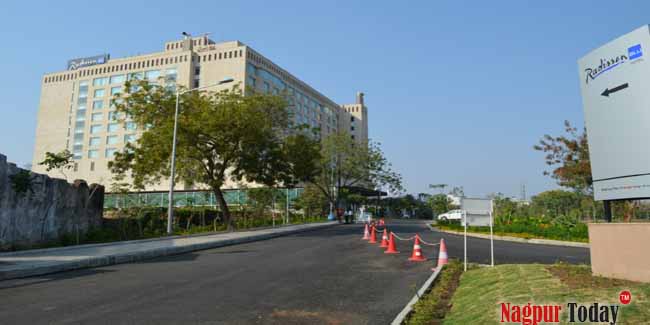 Nagpur News: Quite Strange and bizarre it may sound but the current set of available facts clearly points towards one of its kind road scam in Nagpur. The people often complain the persistent civic problems regarding city roads but what if the authority denies the ownership of the public road?
Strange! Yet true. All concerned bodies Nagpur Improvement Trust (NIT), Maharashtra State Road Development Corporation (MSRDC) and Hotel Radisson Blu, which has currently occupied the place in question, are mum over the possession issue of Hotel Radisson approach road. A query sought under RTI filed by an alert citizen is still awaiting response from the concerned authorities.
When contacted, MSRDC turned down the issue saying that MSRDC maintained the road for 4-6 months since this road is linked to the main road. Officials said that they had written a letter to Nagpur Municipal Corporation in this regard. The then officer in-charge J D Jambhulkar was looking after the issue. But, he retired few days ago leaving a big full stop on all the queries in this regard.
About three months ago, MSRDC received a letter from Town Planning Department in which the latter has appealed to regularize the road since it linked the main road under its authorization. MSRDC has camp office in Nagpur and hence the letter was forwarded to its main office in Mumbai. And decision will be taken only after a reply from main office.
When Nagpur Today contacted Estate Officer D D Jambhulkar, he avoided any comment and asked to contact Town Planning Department for details. However, he did not reveal which concerned person should be contacted for information.
However, General Manager of Hotel Radisson Blu Arun Arora hesitatingly accepted that the road is not constructed by them nor do they have any ownership on that. Arora said that the approach road in front of the hotel belongs to NMC, claiming that the construction has been carried out under proper rules and regulations.
The officers of Nagpur Improvement Trust (NIT) rubbed their shoulders off the issue, saying that if the road was constructed under NMC authorized layout then it must have been constructed under NMC supervision.
MSRDC, NIT and NMC, every civic body is passing the buck on each other regarding the authorization of this road. Since no civic body is ready to take the responsibility of the road, the authorization issue of Hotel Radisson approach road lies in dark.
Under such circumstances series of question arises which indicates foul play. Did Hotel Radisson Blu construct this road for its convenience? Was the road constructed for personal interest of some political personage? The questions are still unanswered.
Is Hotel Radisson Blu management superior to NIT, NMC, or any other civic body? If not, then why no civic authority had objected to this road until now.
It is to be mentioned that Hotel Radisson Blu got NoC from Environment Department after much efforts from the group.
Also, it is to be noted that Hotel Radisson got bar license in a very peculiar manner. A former government official had organized a special meeting in which the hotel got the license. In this meeting, only three licenses were issued.
It may be noted that Radisson Blu is a Chain of Hotels from the Carlson Rezidor Hotel Group, one of the world's largest and most dynamic hotel groups.