Gosekhurd canal:Tiger dies during territorial fight

Nagpur/Gosekhurd: In a tragic incident, a tiger weighing 85 kg died after falling into Gosekhurd left canal during territorial fight with another tiger. The incident came to light on Monday morning. The Gosekhurd canal is situated on Sindewahi-Pathri road. A fight between two tigers began on the bank of this canal in compartment no. 168 of Gadmaushi area in Saturday night. Forest officials have suspected that this tiger might have lost balance, fell into canal and died afterwards. The age of dead tiger was nearly two and half years.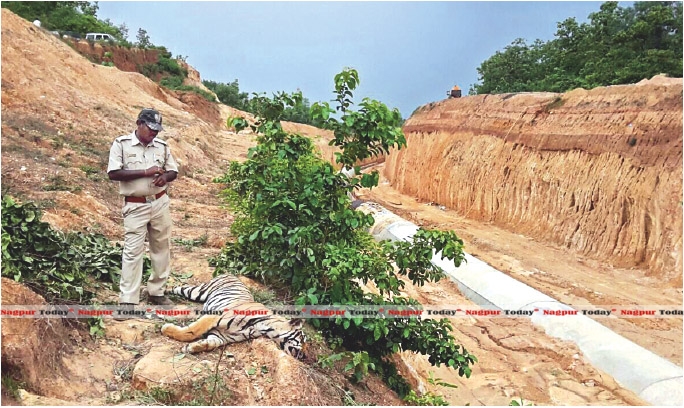 Gosekhurd canal is located in front of ITI College in Sindewahi. There is presence of a tigress and her four cubs in this area. She had given birth to four cubs nearly two and half years ago. These cubs have now grown up. Meanwhile, one male among these cubs started fight with another tiger strayed from Tadoba Andhari Tiger Reserve. The tiger died during fight after falling into canal. After this incident came to fore on Monday morning, regional manager of Forest Development Corporation of Maharashtra"s S S Dohe, D M Rajput, chief conservator of forests of Chandrapur territorial circle Sanjay Thakre, deputy conservator of forests Ashish Thakre, Eco Pro"s Bandu Dhotre, Aditya Joshi, Sindewahi"s conservator of forest Vasant Kamdi reached the spot. The dead tiger was taken into possession and post mortem was performed in FDCM rest house premises. Forest department sources informed that deep canine injuries on neck were found. Similarly, first cervical vertebrae of tiger was also broken. This is the second incident of tiger death in the district. Earlier on June 23 a tiger was found dead in Tadoba Andheri Tiger Reserve. Forest officials have claimed that the tiger was killed in the battle for territorial supremacy.