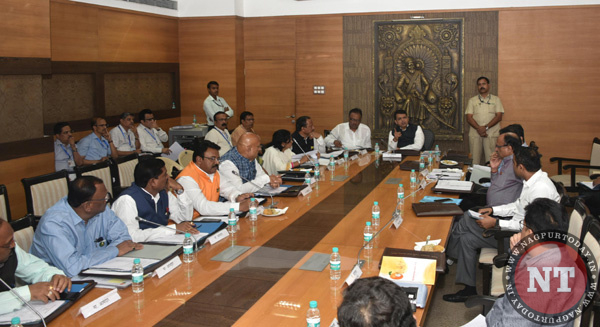 Mumbai/Nagpur: Chief Minister Devendra Fadanvis on Monday approved Nagpur Metro Region Development Authority's (NMRDA) ₹ 1,759.71 crore budget for 2018-19.
Meeting held in Mumbai was attended by Nagpur Guardian Minister Chandrashekhar Bawankule, ZP President Nisha Sawarkar, Mayor Nanda Jichkar, MLAs Sudhakar Deshmukh, Vikas Kumbhare, Sudhakar Kohle, Dr Milind Mane, Sameer Meghe, Girish Vyas, CM Additional Chief Secretary Pravin Pardeshi, Principal Secretary of Urban Development Nitin Karir, NMRDA Commissioner Milind Mhaisekar, NMC Commissioner Ashwin Mudgal .
Chief Minister Fadanvis said that NMRDA should plan for constructing at least 1 lakh houses under PMAY. The NMRDA should seek help from MRSAC to keep a watch on reserved plots in this area and delegate responsibility to officers to arrest unauthorized constructions on these plots.
The NMRDA budget presented today has provision for various development works (70 cr), Road and Bridge works (40 cr), Sewage management (10 cr), Musical fountain at Futala and Multimedia Show at Ambajhari Park (30 cr), Development of Sri Mahalakshmi Jagadamba Sansthan Koradi with Government and NMRDA cooperation (122 cr), NMRDA to provide Rs 26 cr for development of Sri Jagadamba Sansthan, Modernisation of museum at Shantivan in Chicholi where personal items used by Dr Babasaheb Ambedkar are kept (28.25 cr), Development of Deekshabhumi and Dragan palace under Swadesh Yojana (30 cr), for basic amenities in Dragon Palace premises (20 cr), Houses for low income group under PMAY (700 cr), Building Dr Babasaheb Ambedkar Convention Center at Kamptee Road in North Nagpur (89.64 cr) and so on.
Besides the budget, administrative sanction has been accorded to Khadka-Kirmiti-Shivmadka, Sumthana-Panjri and Sumthana-Parsodi schemes under NMRDA. Under the Swadesh Yojana sanction has been accorded to development of religious pilgrim places of Waki, Adasa, Dhapewada, Paradsinga, Chhota Tajbag, Telangkhedi, and Girda. Musical Fountain and light and sound show and laser show at Futala tank and light and sound show on the life of Swami Vivekananda at Ambajhari Park have been sanctioned. Extension till October 31, 2018 has been given for submitting applications for declaring unauthorized plots/layouts/construction as pacification structures. Sanction has also been granted to NMRDA pattern of 188 posts.