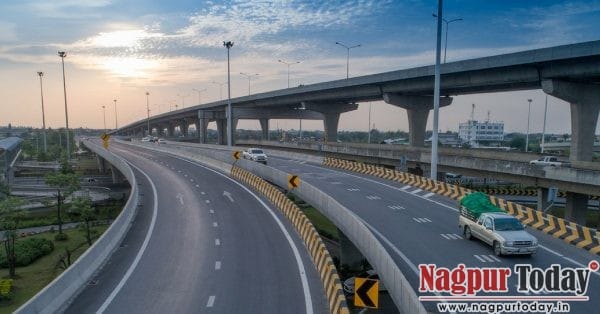 Nagpur: The toll for a light vehicle (car) for one-way trip down the Hindu Hrudaysamrat Balasaheb Thackeray Maharashtra Samruddhi Highway connecting Nagpur and Mumbai will be around Rs 1,100, said Maharashtra State Road Development Corporation (MSRDC) joint Managing Director Anilkumar Gaikwad, as per the media reports.
Public Works Minister Eknath Shinde also announced that the revised deadline for the stretch from Nagpur to Shirdi is now December 2021, and for up to Thane it is December 2022. He ruled out cost escalation due to delay in completion of the eight-lane project.
It is pertinent to mention that during his visit last December, Chief Minister Uddhav Thackeray had set deadline of May 1 for completion of work from Nagpur to Shirdi. Shinde, also urban development minister, said efforts were made to meet the deadline but could not be possible due to the pandemic.
Shinde, Gaikwad, additional collector Nishikant Sukhe, Ramtek MP Krupal Tumane, Ramtek MLA Ashish Jaiswal, Sena leaders including Kiran Pandav and others inspected package-I of the 701km project on Friday.
Gaikwad further mentioned that, "Toll will be as per guidelines issued by central government in 2008. Light vehicles will be charged Rs1.65 per km. Toll will be for exact km used on expressway, Toll for heavy vehicles will be thrice the rate for light vehicles." also said, "Financial progress of the project is at 64%, while physical progress is 79% on the Nagpur-Shirdi stretch and 70% for entire project. Deadline is 36 months from initial stage, and will be achieved if one considers exact date of commencement of work," said, Gaikwad.
Gaikwad added," 40% labourers left work due to Covid-19. Now, everything has been streamlined; 35,000 are working on the project and 5,500 machines are engaged," he said.
Shinde said work of three-four of 20 nodes (townships) has been started. "The project is very important and will be a game-changer for the state. The expressway will also be connected to JNPT and areas not falling on the corridor like Konkan through various ways. It will encourage industries and other sectors to come to Vidarbha and Marathwada. Sectors like textile, tourism, IT and agriculture will be boosted by developing 20 nodes," he said.
Shinde said the plan is to establish solar power plants of 250MW along the corridor. "We have planned to plant over 11 lakh trees. This is in addition to existing greenery," he said.
Shinde said there will be no comprise on quality. "We are developing the project so that vehicles will operate at a speed of 150km per hour. Travel timing from Nagpur to Mumbai will be reduced from 15 hours to 6-7 hours."