" Wada Raha Sanam…" Was a Basket of Emotional Songs…. Dr. S S Uttarwar

Swar Sargam gp organized Wada Raha Sanam ……. " A online Musical concert . Many viewers was on line to enjoy blend of new and old melodious songs. Seema sing is Director of Swar sargam gp. Dr Sanjay Uttarwar , Director of Sa Re Ga Ma Cultural gp who is also known as Voice of Mukesh in Musical circle of Nagpur was present for the event. Program was at APS Studio Nagpur.
Program starts with " Deewano ke Nam to Pucha kar…. sung by Arun Kumar. . Other singers were , Seema sing , Jaya Dhabekar, , , Anthoni Naidu , Tushar Rangari, Vaishali Ganorkar, Vijay Gaidhane, Arun Kumar, Shivkumar Awaze, Navin Paliwal and Raju Vyas.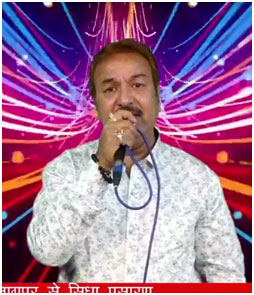 Other Soulful solo and duet songs like Lal dupatta Malmal ka…, Jadugar Tere Naina…, Jo Tumko ho Pasand wohi Bat Karenge…, Kaun Tuze you…., Khowb ho tum ya koi Haqeegat.., Purvaiyaa leke chali…., Chalkaye Jam…., Dil Me ho Tum…., Hum to tere ashique hai…., Har Kisi Ko Nahi Milta…., Ye Parda Hata do.., Chedo na meri zulfe…, Wada Raha sanam…, Chandan Sa Badan…., O Mere dil Ke chain…. Zara Sa Zoom Loo mai…., Ham Yar hai Tumhare… and many more songs were presented by singers.
Tital Song Wada Raha Sanam …. by Seema sing and Arun kumar received loud applaud from audience.
All singers impressed the audience with remarkable performances during program. The audience on its part kept cheering them and encouraging them to give best by putting their comments in comments box. Till end majority of audience praise this program . 1600 compliments was there form viewers . During the said program Organisers welcome Dr. Sanjay Uttarwar . By profession , He is a Principal of Engineering College , but having immense interest and contribution to the field of music. He is a renowned and versatile singer of our city and was invited as Guest Singer by many Groups of Nagpur. He is renowned speaker and orator from central India.
Anchor Raju Vyas done his job nicely. He narrate various stories in connection with songs.
Viewers gave thanks Seema Sing for lovely organization and extend their good wishes for future of the them. Swar sargam gp conduct various programs on line. Vijay Puranik , Nalini Chauhan, Sanjay Gawai, Mr Yoganand Bopche, , Dr. Varsha Uttarwar, Nikita Madam, Mrs Sadhana and Sanjay Upganlawar , Shubhangi and Dilip Manathkar, Shripad and Supriya Manathkar, Sonali and Rajesh Nalamwar,, and many more music lovers has joined program.
Program comes to end at 9.30 pm and music lovers moves with euphoria of sweet songs.