Viral Video: Speeding train crushes motorcycle, biker has a narrow escape in Nagpur ?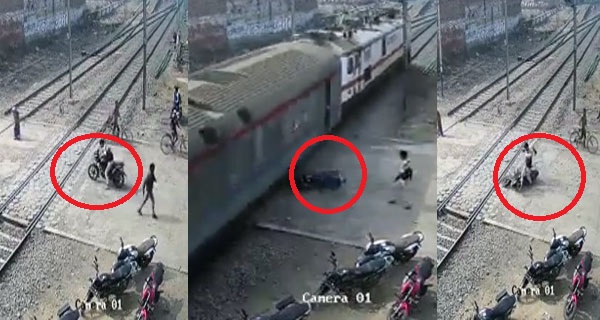 Nagpur: A biker who attempted to cross a railway crossing when a speeding train was approaching had a narrow escape here in Pachpaoli area on January 20. However, his bike was smashed and crushed into pieces as the speeding train moved past. This is message going Viral with video is not of Nagpur but  reportedly from Rajahmundry, East Godavari in Andhra Pradesh.
A heart-stopping CCTV footage of the incident has gone viral on social media. The video begins with people crossing the railway tracks even when the barricades are closed. Pedestrians can also be seen crossing and walking near the tracks.
A biker also attempts to cross the tracks but realises that it may be too late and applies the brake causing the vehicle to slow down. The panicked biker is unable to control the vehicle and jumps off. As he rushes back, the bike lying on the ground gets crushed by the speeding train.
Trying to cross railway crossing when a speeding train is approaching is never safe. However, people in rush often disobey rules and cross the railway crossing in a hurry even after the barricades are closed are the common sight in the Second Capital of the State. Such a violation can lead to serious accidents and can also be fatal.
Watch video here: