Update: 5 Dead in Massive Fire at Pune's Serum Institute of India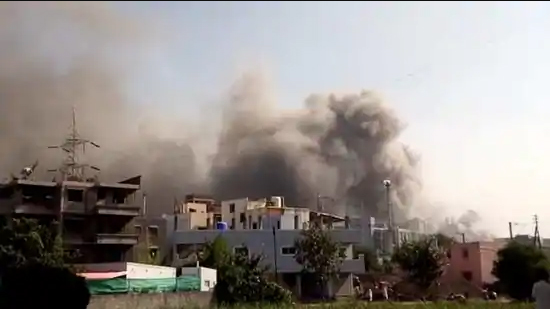 Pune: At least 5 people have died today in the fire that took place at Pune's Serum Institute of India. A major fire broke on Thursday at the Manjri plant of Serum Institute of India (SII), Pune. Several fire tenders were rushed to the spot and emergency services were pressed in action. However, reports now confirm that five people have lost their lives in the fire today. Adar Poonawala, CEO Serum Institute has expressed grief over the loss of lives.
Poonawala however, confirmed that the work related with Covishield manufacturing won't be affected SII Pune is manufacturing Coronavirus vaccine Covishield. According to SII executive director Dr Suresh Jadhav, the fire was reported at the facility where BCG vaccine-related work was on. The covishield manufacturing unit is five minutes away from the place where fire took place.
The cause of fire is being investigated, said fire brigade officials. The plant produces multiple vaccines along with Covishield. It is being reported that fire at SII facility occurred in an under-construction building.According to the latest updates, atleast 10 fire tenders have been rushed to the spot.
Emergency services have also been pressed into action. A total of four workers have been rescued so far. One team of NDRF (National Disaster Response Force) has also been moved to the site.Maharashtra CM Uddhav Thackeray is in touch with Pune Municipal Commissioner and is taking complete on-ground updates. He has directed state machinery to coordinate & ensure that situation is under control, news agency ANI reported.Fire continues to rage at the fourth and fifth floors of SEZ3 building inside Terminal Gate 1 of Serum Institute of India in Pune.