Trust Yourself, One Day You Will Achieve Your Goal…. Dr. Sanjay S Uttarwar

The Vidarbha Institute Of Technology (VIT), with immense pride had celebrated and showed their gratitude towards the great philosopher Swammy Vivekanand warrior of truth and justice. 12th January was birth anniversary of the greatest Personality of our country.
On this occasion, Dr.Sanjay.S.Uttarwar, Principal VIT had delivered speech on the life of Swammy Vivekanand, his great great and innovative teachings tactics and had also explained how we can follow his principles to build a peaceful society. He further enlighten that Swammy Vivekanand is not only a legend from the history of India but is a hero for the people of our country and also for the whole nation. We are celebrating his birth anniversary as a National Youth Day.
Dr Uttarwar further address the audience that , one should trust himself and with consistent efforts you will achieve your goal in life. He is a renowned motivational speaker of central India and frequently appear on various platforms for guiding youth.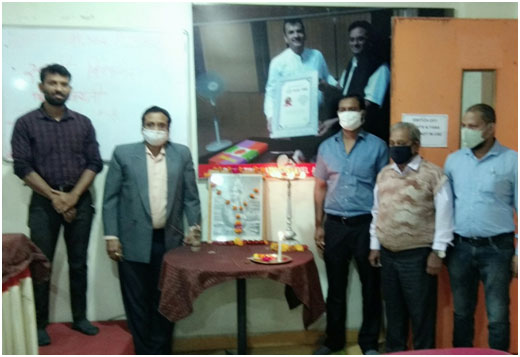 Prof . Sauras Ghotekar , NSS Coordinator has also expressed his views and compeered the program. Prof. Nilesh Bodne Vice Principal, Prof. Kalurkar, Prof. Gole, Prof. Vaidya, Prof. Kukde, Prof. Thakre, Prof. Kadamdhad, Prof. Jambhulkar, Prof. Moon, Prof. Malode, Prof. Wankhede, Prof. Ambade, Prof. Chafle, Prof. Godbole, Prof. Agre, Prof. Bissa, Prof. Khobragade, Mr. Raut , Mr. Nagose and all staff were present for function.
Mr.Jitesh.N.Maheshwari (Chairman, VIT) . Dr.Pooja Maheshwari (Secretary, VIT) along with Dr.G.S.Natrajan (Director, VIT) Congratulate college staff and extend their best wishes.