Top IT Security Leader"Cyber Sentinel Award 2020"for Dr Rizwan Ahmed

Dr. Rizwan Ahmed gets prestigious global award as "Cyber Sentinel Award 2020" award during online "Security Symposium and Cyber Sentinel Award 2020"function hosted by Enterprise IT World magazine recently. He is recognized as winner amongst chosen few Top IT Security Professionals across India and globally.The winners were announced in the presence of various CIOs, CTOs, CISOs and other senior IT professionals across the globe from various industries.Dr. Rizwan is only recipient from entire Vidarbha region.
This is his 4thGlobal Award in 2020 besides "Digital Transformation Leader Award 2020", "Legendary Super CTO Award 2020", "Super Hero Award 2020" and overall 11thGlobal Award.
After winning this award Dr. Rizwan said, "I am truly obliged for this great honor and recognition given by the esteemed Jury members.It is really humbling to be included in the list of Top 100 IT Security Leaders in India and globally. I take this opportunity to thank all Jury Members, Sanjay Mohapatra, Sanjib Mohapatra, and everyone at Enterprise IT World Magazine".
Besides this Dr Rizwan Ahmed to moderated a panel discussion on the topic of "CXO talk on Business Continuity Planning and Security First" with global IT Leaders Manish Gaur (IT Head, Patanjali), Sunil Sharma (Managing Director – Sales, Sophos India & SAARC), Dr Erdal Ozkaya (CISO, Standard Chartered, UAE) and Ravindra Baviskar (Director Sales Engineering, Sophos- India & SAARC).
While moderating the panel discussion Dr. Rizwan said, "Implementing effective cybersecurity measures is particularly challenging today because there are more devices than people, and attackers are becoming more innovative. Plus this becomes even more challenging due to advent of WFH models and BYOD security challenges due to Covid-19.We have made lots of good progress against cyber security and our preparedness in terms of Business Continuity Planning. But winning next war will require both new strategies and new weapons and Cyber Resilience and more importantly create security culture everywhere. As Top IT leaders we need to ensure the success of digital, connected, intelligent and autonomous business is making sure that security is core competency across the organization. With pervasive cyber resilience, the future business can grow with confidence."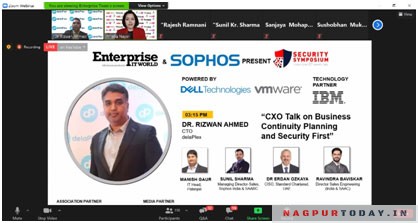 The event was broadcasted live on CIOTV.live and YouTube and was well attended by IT security professionals globally.
Dr. Rizwan Ahmed is the CTO at delaPlex. He has close to 2 decades of professional experience in IT industry in various roles as innovative, hands-on technology executive with a proven track record of leading the design, development & program/project management of high technology projects and solutions, while continuously improving the processes and procedures. He also works as "Independent Cybersecurity Consultant and Mobile/Digital Forensic Investigator" for various Private, Government and Law Enforcement Agencies in India and abroad.
He is also one of the first recipients of Ph.D. in the field of mobile forensics in India. Dr. Rizwan has received many awards and accolades in past with most prominent being Microsoft's "IT Technology Hero", "Marquis Who's Who in the World® 2016", ITNext Magazine's "NEXT100 Future CIO 2017", "Most Innovative 100 CIOs/CTOs of India 2018", "Smart Innovator Award 2019" and "CIO of The Year 2019", "ACM's Distinguished Speaker", Multiple Best Research Paper Awards and many others.