Sing on Musical Groups is a right platform for upcoming Singers… Dr. S S Uttarwar.

Sing on Musical Gp Nagpur has organized a Musical concert Live on Fb , In the lock down period , Sing On Musical Gp has given a musical feast to all viewers. Viewers shower their comments on the Singers and organizers. Huge no comments and compliments was there to the show. A N Sharma and Meera Sharma Directors of Sing on Gp present soul full songs. .
It is unique program by Sing On Musical Gp for journey of sweet Songs. A N Sharma , Meera Sharma Yuvraj Chaudhary , Ashok Bagul, Pankaj Joshi, Anthpny Naidu, Rajesh Dharmathok, Rajani Bande, Dr Prashant Barve, Dr Pratibha Kadu, are the artists who has performed.
Meera Sharma is a versatile singer who perform songs of various singers with perfection. Show was attended by majority of viewers from Maharashtra and Goa and around the globe . Concept was of Meera Sharma, Coordinator was A N Sharma, Technical Support Rudrakanr Bhattacharya, Vishvanath and Vyankatesh Sharma. ACP Ashok Bagul was Guest Singer for the event.
Dr. Sanjay Uttarwar and other renowned people of Nagpurs musical world witness the program on line and extend their best wishes to Sing On Musical Group. He congratulate Sharma Couple for establishment of Nice musical studio with al latest facilities. Dr. Sanjay Uttarwar is having immense interest and liking to the field of music. He is a renowned Academician , Principal, Social worker and singer of our city too. He is associated with various social and cultural bodies of Nagpur.
Program starts with Ganesh Vandna Onkar Swrupa… sung by Rajesh Dharmthok..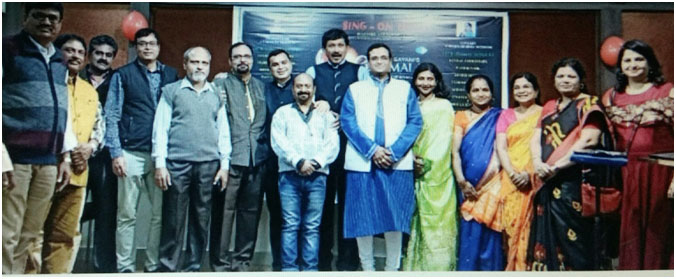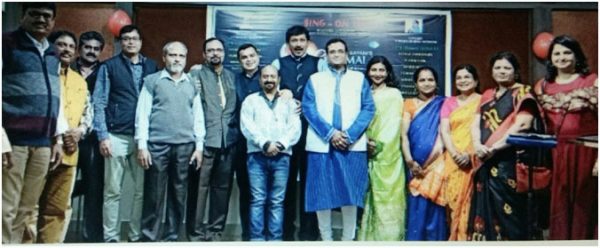 Soulful songs like Tum sath ho gar apne…., O Mere sanam…., Jindgi haste Gate…., Gam Uthane ke liye…., Chehra hai ya chand Khia hai…., Janam Janam ka sath tumhara hamar…, O mere dil ke chain…, Baharo Mera Jivan…, Tora man Darpan Kahlaye…., Wada to Nibhaya…, Rote hue aate hai sab…., Wada karo nahi chodoge…, O hansini Meri Hansini…., Aisi deewangi….., Dil Jate hai… Tu is tarah se.., Mere Naina Sawan Bhado…, , Meet na meela re manka… and many more song wer presented by Singers.
Janam janam ka sath hai tumhara hamara…., Sung by Meera Sharma and Yuvraj Chaudhary received loud applaud from audience.
Audience on its part kept cheering them and encouraging them to give best.
Anchor Yuvraj Chaudhry done his job nicely. He narrate various stories in connection with songs. He is a renowned anchor, Singer , Composer from Nagpur.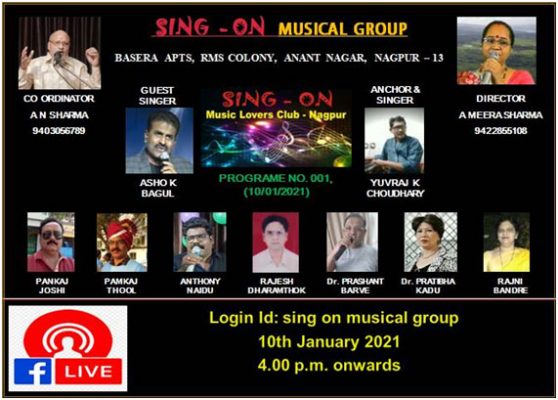 Viewers gave thanks A N Sharma and Meera Sharma for lovely organization and extend his good wishes for future of the them. Sing on Musical gp will conduct various programs on line up to end of lock down. Since 25th March they are conducting various programs for viewers and has tied up viewers at home.
.
Program comes to end and music lovers moves with euphoria of sweet songs.