Shyam Karate Academy students shine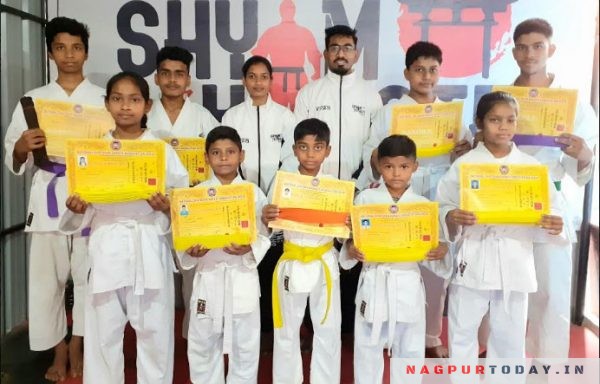 Nagpur: Students of Shyam Karate Academy successfully passed the Belt Exam organized by NSKAI Nagpur District at Hindu Mulinchi Shala here recently.
The examination was conducted under the watchful eyes of Sensei Sanjay Ingole. The Chief Examiner was Sanjay Ingole and senior examiners Sensei Mohit Pandiya and Sensei Parag Mule. All students gave credit to their coach Sensei Shyamsundar Verma, Director and Chief Instructor of Shyam Karate Academy and Sensei Roshani Chavhan head coach of Shyam Karate Academy.
YELLOW BELT: Devansh Attargade, Atharv Kadoo, Poonam Chauragade, Simran Sharma and Bishesh Dhal. ORANGE BELT : Ajinkya Tarale and Roshan Sharma. PURPLE BELT: Vipin Shrivastav. BROWN 3rd KYU : Yog Chikram. BROWN 1st KYU : Rushabh Gharde.