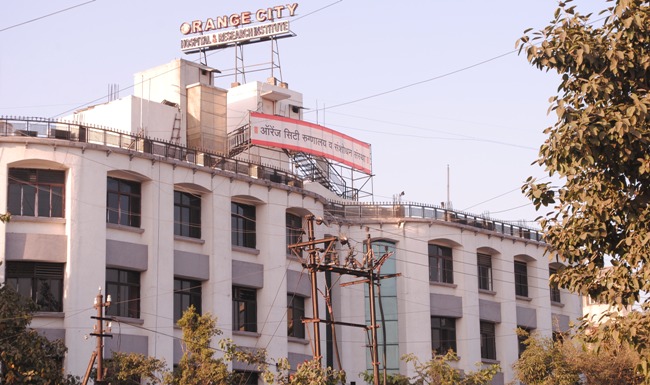 Nagpur News.
You will be surprised to get this piece of information that if someone encroaches any government land, he can be rest assured that Nagpur Municipal Corporation will only charge tax on the person instead to displacing him from the site. An uncanny resemblance to this fact holds true in case of Orange City Hospital and Research Institute (OCHRI) which, according to the 7/12 extract, is sitting on the government land.
Irrespective of the fact that Orange City Hospital and Research Institute (OCHRI) has been illegally constructed on the government land and also on the part of land proposed for road, the property tax status of the hospital has been remained intact. Nagpur Municipal Commissioner Shyam Wardhane came up with this information when inquired by Nagpur Today in this regard.
Also Read : Orange City Hospital illegally built on reserved land
"Even if it is the encroached property the tax is levied on the person who is sitting on that property. If it is open land belonging to government then also property tax is required to be paid. So in this case property tax is being collected from hospital administration as they are currently operating on that property," Wardhane told Nagpur Today.
He said that the illegal encroachment is the matter of title and the land record department can look into this matter. "Usually demand notes are sent to all those who are sitting on the property and it does not matter whether they possess the property legally or illegally. The legality should be verified by the department of land records and as far as collecting property tax on Orange City hospital is concerned, we send demand notes to the hospital authority because at present their property stands on that land in question," Wardhane added.
                                Also Read : OCHRI gulps land sanctioned for road
He clarified though the land could be of government but the building which has cropped up on that land is a private property and hence property tax demand should go to the owner of that building. Wardhane however failed to give satisfactory reply when asked that all those who have encroached government land and bring out erection over that are being sent similar demand notes.
NMC Tax Committee Chairman Girish Deshmukh however said that if property tax note is sent then it doesn't mean the property belongs to the person concerned. "We are liable to collect tax from anybody using property whether it's a vegetable vendor on the road or OCHRI operating from the government land. Whatever the title issue is with the govt and OCHRI, we are only concerned about recovering property tax."