Nilesh, Archana are Superman, Superwoman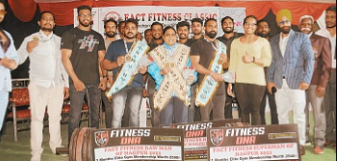 NILESH Hinge and Archana Nadar emerged as Superman and Superwoman in benchpress category while SachinThackeray and Archana Selvin became Strongman and Strongwoman in the deadlift competition during the Fact Fitness Association, Nagpur District Powerlifting Association and Maharashtra Powerlifting Association organised Classic Bench Press and Deadlift Powerlifting Competition.
Nilesh scored 103 points, Archana 51.5 points, Sachin 172 points and Selvin 119.5 points at the Paramount Gym in Sadar. International bodybuilder Tejaswini Pandit presented medals, certificates and gifts to the winners. Sunil Agrawal, President, Maharashtra Powerlifting Association, Kamlesh Chaudhary, Corporator, Sunil Fulzhale, Secretary, NDPLA were present during the prize distribution ceremony.
Results: Benchpress: Men 59 kg : N ilesh Hinge, Rupesh Nandanwar,Aniket Janbandhu. 66 kg: Ram Yadav, Nandkishore Banpurkar, Sheikh Rafe. 74 kg: Jitendra Bendekar. Amar Devar, Prasanna Kaskhedikar. 83 kg: Rajesh Gaur. Umesh Bansod, Chandrasekhar Uke. 93 kg: Shobit Jain, Deepesh Negorle, Devendrasingh Rathod. 93 kg: Dharmendra Vishwakarma, Alok Sahare.
Women: 57 kg: Kanchan Wankhede (30 kg). 63 kg: Tasbina Qazi (25 kg). 72 kg: Archana Nadar (52.5 kg). Over 72 kg: Mohanlal Sothar (35 kg). Dead Lift Men 59 kg: Asjad Khan, Nikhil Pirwane, Aniket Janbandhu. 66 kg: Suraj Kandalkar, Akshay Baraskar, Mohammad Sahil Sheikh. 74 kg: Jerome Arnold, Ankush Botre, Shreyas Uike. 83 kg: Sachin Thackeray, Eugene Smith, Sumit Bodkhe. 93 kg: Sameer Jaiswal, Shobit Jain, Arjun Rangwar. 93 kg: Shubham Ghorde, Dharmendra Vishwakarma, Silverius Sylvester. Women 51 kg: Kanchan Wankhede. 63 kg: Tasbina Qazi, Lonemi Jaiswal (75 kg). 72 kg: Archana Selvin. Over 72 kg: Jana Sithar.