National Galleries of Scotland preserves photo of Raje Raghuji III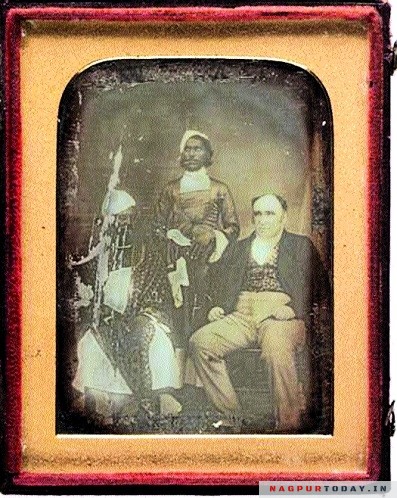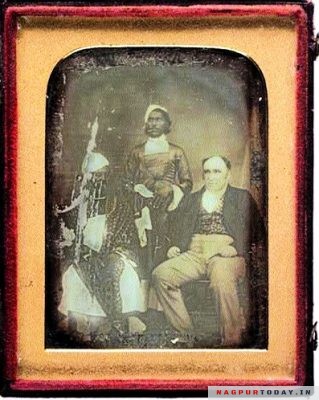 National Galleries of Scotland has kept in its collection the photo of Nagpur Ruler Raje Raghuji III and British Resident Sir Thomas Wilkinson of June 1844. This is an authentic photograph of Raghuji III and Sir Thomas Wilkinson, who was Resident Political Agent of Governor General of India (East India Co.) at Nagpur. Also, this is the only known photograph of Raghuji III. This is the first known photograph taken in Nagpur. This is one of his earliest photographs taken in India.
Daguerreotype photograph (named after Louis Daguerre, the French inventor) was developed in 1830s and publicised in 1839. A mirror polished thin layer of pure silver was coated on copper plate. It was then exposed to iodine and other halides. It was then used in camera obscura as photographic plate. The image formed on the plate due to effect of light (it required strong sunlight) on silver halide was preserved by exposure to mercury fumes. As the surface was still sensitive to touch and physical damage, it was placed in case and the glass was separated form photo by a 2 mm thick border of some material. The border was then sealed on all four sides to protect the photo from climate/weather changes. Many early Daguerreotype photographs were mirror images that is left side was seen as right side and vice versa.
This can sometimes be decided by looking at buttons of the coat. If buttons are on right side of the person photo is real and if buttons are on left side of person it is mirror image. Sir (Col.) Thomas Wilkinson was 9th Resident Political Agent at Nagpur from November 14, 1839 to September 12, 1844. He was born in 1795 and joined Bengal Army as cadet in cavalry in 1810. He spent long time in Nagpur as officer of Nagpur Auxiliary Horse. In 1830 he was transferred to Political Department and posted as Agent in South West province (of Bengal Presidency) which is Orissa. His code for settlement of land and as guide for administration of civil justice is known as 'Wilkinson's Rule' and was in use for about 125 years without any major change. He was in favour of allowing to adopt an heir to Raghuji. He retired from Nagpur and went back to settle in London.
He was created a Knight Commander of Star of India in 1866. He died in 1867. Raghuji III was born as Bajiba, son of Banubai and Venkatrao Gujar, and grandson of Raghuji II (through his daughter Banubai), and was adopted by widow of Parsoji Bhosale and renamed as Raghuji III. He was born in 1808 and was adopted in 1818. He took charge of the state in 1828 on achieving majority. He died in 1853. He did not leave any legitimate son behind though he married 8 times. Nagpur state was annexed on his death by East India Co. He was last Sena Sahib Subha, a post created by Chhatrapati Shahu I, meaning Head of the army of the province (Gondwana and East including Bengal) to collect Chauth and offer protection to the province which was nominally belonging to the Emperor of Delhi and administered through his officers. Before 1832, the Raja of Nagpur when visiting Residency would carry his own masnad (a small cushion on a platform) to sit upon and would not use British chair. But one can see him sitting on a wooden chair here. Raghuji III started using chair or couch during Residency of Mr Henry Graeme who prepared a special couch for Raghuji.
The name of the photographer is not recorded. But a date, June 1844, is written on the photograph. The photograph and the case in which it is mounted is property of National Galleries of Scotland. The NGS has the copy right of the digital image of the photo. After realising the historical importance of the photograph, NGS has displayed it on its website (https://www.nationalgalleries.org/art-and-artists/10457/portrait-sir-thomas-wilkinson-and-raja-nagpur). (The author is a medical doctor. He is grateful to NGS for providing high resolution digital image of the photograph and permission to publish it in the newspaper.)