Nagpur's eminent personalities on year bygone and wishes for 2021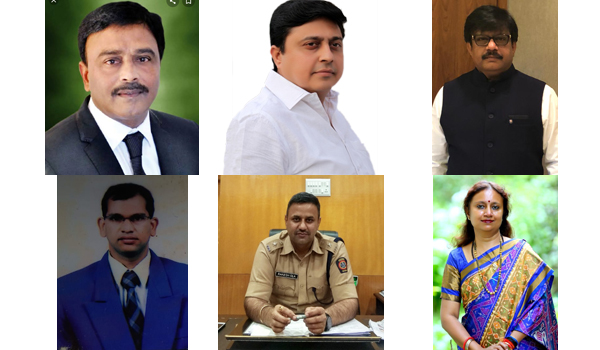 Nagpur: As we step into 2021 with a bunch of hopes and aspirations and a zeal to wash off some bitter-sweet experiences of 2020, Nagpur Today nudged few eminent personalities across different walks of life to have their say on how 2020 fared and their aspirations for 2021.
Abhijeet Wanjari, young leader and MLC stressed on more precautions to be taken in the ensuing year. While extending his wishes for the new year and hope for prosperity, Wanjari said, "As we saw, 2020 shattered the world with a wave of pandemic and is now causing concern with it mutant. But as things are getting to new normal and we are moving on to the usual business, I wish all should adhere to precautions and have a safe year. Warm wishes for the year 2021."
Akhilesh Halve, Deputy General Manager (Corporate Communications), Mahametro, "While 2020 was really a tough year, I wish 2021 brings in new dawn and new ray of happiness for all. I would say that despite the pandemic 2020 was an year of achievement for Nagpur Metro as we just completed our aqua line and is now fully operational.
All except one station are functional. Last Sunday we received the highest ever ridership and we wish to continue with the same momentum. With all the best wishes for new year I would request all Nagpurians to support metro whole-heartedly, not because we want to increase ridership but also want to give them a comfortable and safe ride which shall also reduce traffic congestion and pollution on city roads. At Mahametro we keep all the norms in check and follow them in letter and spirit. Once again I wish a warm New year to all."
Bharat Bhai, owner of Batukbhai Jewellers looks at the brighter side of the scene while sharing his optimism for the new year. He says, "The economical situation has improved for the better and things are appearing to move in a fruitful direction.
The business is also flourishing and the seasonal as well as occasion buying for jewellery has also seen a significant improvement. We will not say it's completely slack but the sales have picked up and I wish the year marks a big boost to our economy.
Avinash Dorsatwar, Executive Director of Jaidev Education Society which runs JD College of Engineering & Technology and JD Polytechnic on Kalmeshmar road says, "While 2020 brought in opportunity in adversity, it was an year of learning a lot of life lessons. Though entire year went into fighting Covid pandemic and many people lost their lives, jobs and salaries, it still made the people life-ready. As the pandemic wave seems to settle somewhat and the markets are gradually seeing rise, particularly the property market, the education sector certainly needs more clarity on the side of government. While the year 2021 looks promising for other sectors, a lot is needed to be done to bring the derailed education sector on track.
While board examinations and practical dates are scheduled, colleges are awaiting the results of semesters without which the scholarship process too could not start. Secondly, there is still no clear picture on opening of colleges yet. However the biggest challenge still remains paucity of funds as the scholarship backlog is piling up on a cash-crunched state government. The scholarship bills are pending. Though I wish this should be resolved I still think 2021 might go into that. Here's hoping for the best."
Chetna Tank, Corporator,Vice President BJP Nagpur city and Director – Lalita Public School said, "2020 was one of the worst years and I pray to god this should never recur ever. I wish 2021 should put an end to Covid and all should stay healthy. Also on our part, we wish the works in NMC should pace up and we will be able to finish all our pending works.
Secondly I would like to say that our education system has been completely spoiled during Corona times. No matter how hard we tried but online learning failed to give desired results. The entire education system needs to be revived in 2021 and our children should be brought on right track of learning. Lastly, I would like to wish all the citizens a bright and prosper New Year."
Rakesh Ola, Superintendent of Police, Nagpur Rural, said the new year though has few challenges ahead, it should be taken with positive bent of mind. He said while 2020 was absolutely challenging owing to the pandemic, it turned out to be opportunity for those who have the vision to look beyond challenges.
I wish the people should be more aware and lead to ultimate progress. So here's wishing all a bright, prosperous and safe 2021."