Mere Watan ke Logo…. Was Perfect Blend of Patriotic Songs – Dr. S S Uttarwar.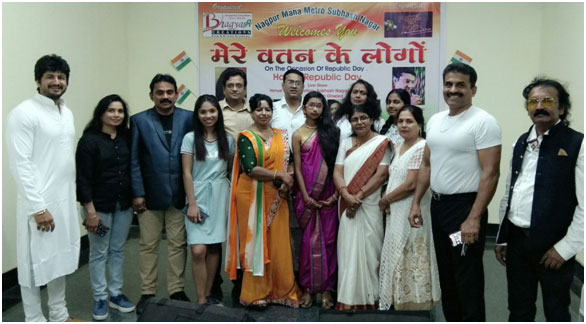 Bhagyashree Creations and Raga To Rock Gp Nagpur has arranges " Mere Watan Ke logo ……" a musical concert at Subhash Nagar Metro Station , Hingna Road, Nagpur. In the lock down period , Bhagyashree Creations and Raga To Rock Gp has given a musical feast to all viewers. Viewers shower their comments on the Singers and organizers. Huge no comments and compliments was there to the show. It was unique program by Bhagyashree Creations and Raga To Rock Gp for journey of Patriotic Songs. Dr. Sanjay Uttarwar who is a renowned singer from Nagpur and known as Voice of Mukesh , was present to witness the show .
Sanjivani Chaudhary, Sanjeev Jagtap, Sanjay and Sejal Borkar, ACP Ashok Bagul, Aruna Chaudhary, Umesh Tembhurne , Sharda Lanjewar, Kumudini Deshmukh, Madhav Bobde, Prashant Anwane, Shankar Ramteke, Kaushik Pujari, Mrunmai Jagtap, were the singers who has performed during show.
Sanjeev Jagtap is a versatile singer who perform songs of various singers with perfection. Show was attended by majority of viewers. . Concept and organizer was of Sanjivani Chaudhary Director Bhagyashree Creations and Sanjeev Jagtap Director of Raga to Rock Nagpur.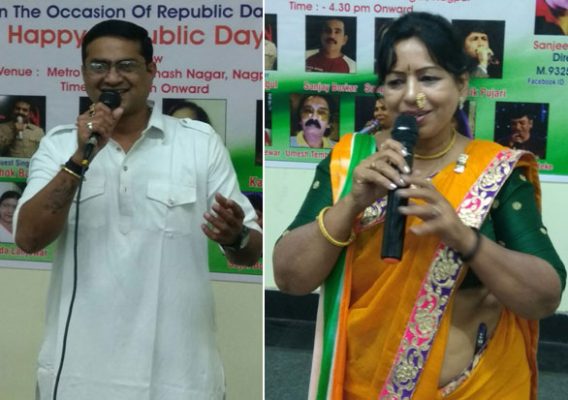 Soulful songs like A Malik Tere Bande ham, Chodo kal Ki Bate, Satyam Shivam Sundaram, Aa Chalk e tuze, Jeevan ke Din Chote sahi, Ek Din Bik Jayega, Mai Shayar to nahi, Kaha tak ye Manko, Har Karam Apna Karenge, Kar Chale ham Fida, Chehra Hai ya Chand Khila Hai.., Jindgi Pyar ka Geet hai, Tu Kitni Achchi Hai, Pardesiya ye Sach hai piya, Mai Benam Hogaya, Mere desh ki Dharti, Dil Kya kare, Ye sham Mastani, Chale jaisi hawa sanan sanan, Jindgi ki yahi rit hai, Mere Juta hai Japani, Sandese aate hai, Fulo ke Rang se, Tune o Rangile , Dilbar mere kabtak, Chal Kahi dur nikal Jaye…., and many more song wer presented by Singers.
Title song A mere watan ke logo Sung by Sharda Lanjewar received loud applaud from audience.
Dr. Sanjay Uttarwar was present for event. He is having immense interest and liking to the field of music. He is a renowned Academician , Principal, Social worker and singer of our city too. He is associated with various social and cultural bodies of Nagpur. During program , Sanjivani Chaudhary, Sanjeev Jagtap, welcome Dr. S S Uttarwar and thank him for his contribution to the musical world of Nagpur . In reply Dr. Uttarwar highlight to achievements of Bhagyashree Creations and Raga To Rock Gp and extend his best wishes to them.


Organisers welcome all viewers for joining the program. Renowned people of Nagpurs musical world witness the program and extend their best wishes to Bhagyashree Creations and Raga To Rock Gp .
Anchor Sanjivani Chaudhary done her job nicely. She narrate various stories in connection with songs.
Viewers gave thanks Sanjivani Chaudhary, Sanjeev Jagtap for lovely organization and extend their good wishes for future. Sangeeta Jagtap, Pratima Borkar Vijay Puranik , Nalini Chauhan, Sanjay Gawai, Mr Yoganand Bopche, Mr. Rakesh Bopche , Dr. Varsha Uttarwar, Nikita Madam, Mrs. Manisha Puranik, , Ashish Taywde, Shri. Balpande , Manish Mukkawar , Hrshali Kherche, and many more music lovers has joined program.
Program comes to end at 8.30 pm and music lovers moves with euphoria of sweet songs.