Mausam Hai Ganeka… a soothing concert by Karaoke Junction – Dr. S S Uttarwar.

Karaoke Junction Nagpur has arranged "Mausam Hai Ganeka …" a online musical concert. In the lock down period , Karaoke Junction has given a musical feast to all viewers. Viewers shower their comments on the Singers and organizers. Huge no comments and compliments was there to the show. It is unique program by Karaoke Junction.
Dr. Sanjay Uttarwar who is known as Voice of Mukesh and Director Sa Re Ga Ma Cultural Gp Nagpur , was present to witness event. Guest Singers was Mr. Bhaskar Waghule. Mr. Sanjay Pilley, Anant Kapaley, Mohd Azad, Jaya Dhabekar, Geeta Tiwari, Dhananjay Bapat, Sunil Wadhwani, Sudhir Pilley presents evergreen Songs. Mahesh Lalwani is a versatile singer who perform songs of various singers with perfection. Show was attended by majority of viewers from Maharashtra and Goa and around the globe . Concept and organizer was Mahesh and Bhavna Lalwani Nagpur .
Soulful songs presented by Sungers . Bhavna and Mahesh Lalwani Surmayi akhiyo main.,.Mohmmad Azad Moh Moh ke Dhage…. ,Sanjay Pillay. …Aji aisa mauka phir kahan milega…. ,Anant Kapalay ..Koi Roko na…. ,Sunil wadhwani …Darde dil Darde zigar, Dhanjay Bapat.. Janam dekh lo…, .Jaya Dhabekar.. Milti hai zindagi main muhobat kabhi kabhi..,., Mahesh Lalwani and Jaya dhabekar Mausam hai Gane ka…. ,Mahesh Lalwani ….Chahe koi mujhe Junglee kahe, Sudhir pillay Aaj se pahle aaj se Jayaram… ,.Bhavna Lalwani …Holiya main ude Gulal …, .Mohmmad Azad Dhadak tilte song.Geeta Tiwari Lal meri pat….. ,Anant Kapalay Manana bhi nahi aata… ,Mahesh BhavnaAa dekhe Zara…, Jaya dhabekar Aapke pyar main hum savarne lage ., Sanjay pillay ..,Dil lena khel hai dildar ka…,. Sudhir Pillay Tere mere beech main …, Bhavna Mahesh.. Mere piya Rangoon…, .mohmad Azad Tere bin..,.Jaya dhabekr and Mahesh Kali teri topi …, .Anant Kapay Jani o jani… , .Mahesh Bhavna …Bol baby bol . Dhanjay Bapat ..Tum jo mil gaye , Group song Pyar tumhe kis mod pe .
And many more songs were present by singers.

Surmai Ankho me ..…., Sung by Mahesh and Bhavna Lalwani received loud applaud from audience.
Dr. Sanjay Uttarwar was present for the event. He is having immense interest and liking to the field of music. He is a renowned Academician , Principal, Social worker and singer of our city too. He is associated with various social and cultural bodies of Nagpur. During program organizers welcome Dr. S S Uttarwar and thank him for contribution to the musical world of Nagpur . In reply , Dr. Uttarwar highlight to achievements of Karaoke Junction and extend his best wishes to them. He also praise Mahesh Lalwani for establishing very good studio for shows. He says that this studio is precious gift for music lovers.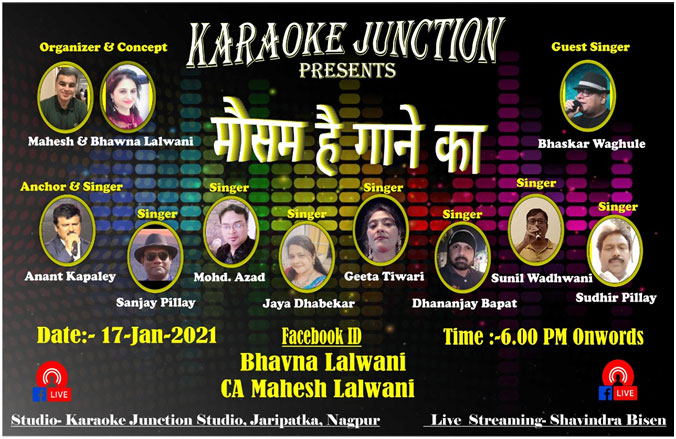 Organisers welcome all on line viewers for joining the program. Renowned people of Nagpurs musical world .
Anchor Mr Vijay Kapaley done his job nicely. He narrate various stories in connection with songs.
Viewers gave thanks to Mahesh Lalwani for lovely organization and extend their good wishes for future of the them. , Vijay Puranik , Nalini Chauhan, Sanjay Gawai, Mr Yoganand Bopche, Mr. Rakesh Bopche , Dr. Varsha Uttarwar, Nikita Madam, Mrs. Manisha Puranik, , , Shri. Balpande , Manish Mukkawar , Hrshali Kherche, and many more music lovers has joined program.
Program comes to end at 9 pm and music lovers moves with euphoria of sweet songs.