Kerala polls: NDA leads in 13 wards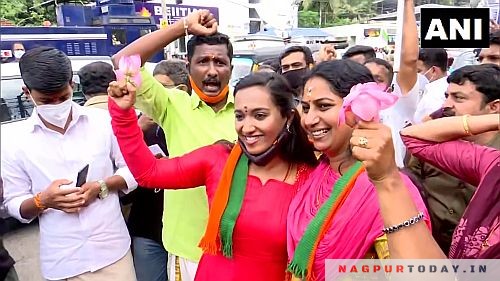 Kerala: BJP workers celebrate in Thiruvananthapuram, where counting is on, for the Kerala Local Body Election. As per early trends of the local body poll results, the NDA is leading in 13 wards.
A total of 21,893 wards in 1,200 local self-governing bodies including 6 corporations, 941 village panchayats, 14 district panchayats and 87 municipalities, went to polls in three phases in the southern state on December 8, 10 and 14. According to Election Commission figures, a total of 73.12 per cent voter turnout was recorded in the first phase, 76.78 per cent in the second phase and 78.64 per cent in the third and final phase.
The counting began at 244 centres at 8.00 am and the final results were expected to be out by noon, Election Commission sources said.